The Church even wants your spirits to be made holy.
In the Catholic Church, we believe that God desires every aspect of our lives to be made holy. Whether it's the door of your home, your car, or a cheeseburger, the Church has a blessing for that.
Following Christmas, the Church celebrates the feast of St. John the Evangelist and has a special blessing reserved for the celebration. In particular, there exists an ancient tradition where the priest invokes God's blessing upon wine on this day.
Legend of the Poison
The tradition is based on a legend surrounding the life of St. John. One day John was challenged by his enemies to drink a cup of wine filled with poison. The accounts of the legend differ as to what happens next. John either drank the wine and did not suffer any ill effect or he blessed the wine and the poison rose from the cup in the form of a serpent. In either case, John was not harmed by the wine and his enemies were confounded.
Official Prayer
In memory of this event the Church has a special blessing of wine that can be found in the Roman Ritual. The blessing refers to the legend and also refer to the wine's medicinal qualities. The blessing is centuries old and wine used to be a remedy for certain ailments.
It may not be a bad idea to have your wine blessed if you are planning an upcoming New Year's Eve party, invoking God's graces upon all those who drink it.
Here is an excerpt from the traditional blessing said by the priest after Mass.
Let us pray.

If it please you, Lord God, bless + and consecrate + this vessel of wine (or any other beverage) by the power of your right hand; and grant that, through the merits of St. John, apostle and evangelist, all your faithful who drink of it may find it a help and a protection. As the blessed John drank the poisoned potion without any ill effects, so may all who today drink the blessed wine in his honor be delivered from poisoning and similar harmful things. And as they offer themselves body and soul to you, may they obtain pardon of all their sins; through Christ our Lord.
All: Amen.

Lord, bless + this creature drink, so that it may be a health-giving medicine to all who use it; and grant by your grace that all who taste of it may enjoy bodily and spiritual health in calling on your holy name; through Christ our Lord.
All: Amen.

May the blessing of almighty God, Father, Son, + and Holy Spirit, come on this wine (or any other beverage) and remain always.
All: Amen.
Read more:
The blessing of the beer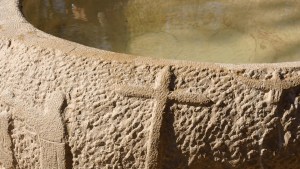 Read more:
3 Powerful sacramentals to have in your home