Making conversation is about a lot more than having interesting things to talk about.
One of my New Years' Resolutions is making more time for cultivating friendships. In the craziness of raising kids, many of my friendships have fallen by the wayside and I haven't managed to make new friends to even the balance. Over the last few months I've had a few nights where I really wanted a girls' night but had no one to call, and that is a depressing state. So in 2018, I'm focusing on building and maintaining friendships.
Sounds easy, right? Yeah. I don't know about y'all, but I've found it surprisingly difficult to make friends as an adult. Part of it is busyness and schedule conflicts, but more of it is not having a common tie that binds, the way school always did for me. I often find myself scrambling for things to say and then blurting out something stupid, and when you're trying to make friends that's hard to walk back from. But I just never know what to talk about, so I talk about anything and everything.
Which … might be part of the problem. According to Dr. Susan Whitbourne, the #1 skill in making good conversation isn't talking, it's listening.
If you're too focused on what you should say next, you'll miss out on the opportunities to follow up on good talking points right there in front of you. These could be areas of similarity between you and a person you've just met (such as having the same birthday), or lead-ins that your spouse provides which give you an opportunity to find out more. Either way, you'll seem like someone who really has an interest in the other person, and you'll also come up with further conversation topics.
I definitely spend too much time thinking about what I should say next. Sometimes I even find conversations jarring when the person I'm speaking with doesn't say what I think they're going to say, because the response I've prepared in my head is suddenly irrelevant. It's not really a conversation if I'm not listening and responding to what they're actually saying, though.
But what if they aren't very talkative and aren't saying much at all? Dr. Whitbourne has two suggestions in that case: first, not to be too uncomfortable with momentary periods of silence, and second, to be observant.
The first is hard for all extroverts, I think. I don't mind periods of silence with people I'm very close to, because I can usually discern the flavor of the silence. If it's mellow, silence born from having nothing much to say, it doesn't bother me. If it's tense, it bothers me. But that has less to do with silence itself and more to do with emotional stress.
Strangers are a whole different thing, though. It can be difficult to read their moods, but even more difficult to try and figure out if they are at a loss for conversation starters or just find me boring. So I usually try and fill silence before it stretches into the uncomfortable range.
That's where the second suggestion, to be observant, comes in. Simple things like a team jersey or an interesting bracelet can have connections that reveal a lot about a person, and noticing those details is a way of showing interest in learning more about them. So for me, even though I despise football, asking about a jersey doesn't necessarily signify an interest in football. It signifies an interest in the person wearing the jersey. Listening carefully while they tell the story behind it, even if said story involves football, likewise communicates interest in learning more about them. And that's how friendships begin — with less talking and more listening.
So maybe my New Years' Resolution shouldn't be "making friends" but "learning more about other people." The second sounds a lot less intimidating and, frankly, more interesting. And if I don't make friends that way, there's always 2019.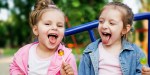 Read more:
There's a science behind making friends