The benefits of these fermented foods may extend beyond our digestive health.
Our bodies can be under a lot of stress during the holiday season. With all of the traveling, visiting with strange relatives, and eating rich foods, our immune systems, our digestive systems and our "emotional" systems can definitely take a hit. One way to keep everything in check during this festive – yet sometimes hectic – season might be to get a good dose of probiotics.
While we've known for a while that probiotics are beneficial for our digestive systems, recent research indicates that they may be good for a whole host of other things, too – including anxiety. This could be due to the "bidirectional" nature of the relationship between the brain and the gut, which according to researchers means that "changes in microbial flora can affect behavior, and behavioral changes can affect the gut flora." Evidence for the effect of probiotics on altering the stress response in mice is particularly promising, but researchers caution that more (and better) studies are needed to assess the true impact of probiotics on anxiety in humans.
But while we're waiting on that research, it can still be a good idea to up your probiotic intake – especially during the holiday season. One easy way to do so is to use a probiotic supplement, often in the form of a capsule, powder, or liquid. But it may be best (and most satisfying) to consume probiotics through our food. Fermented foods like yogurt, kombucha, sauerkraut, miso, and kimchi are all prime examples of fermented foods chock-full of healthy probiotics. There's a reason why many cultures have traditionally paired a fermented food with a starch and/or a rich meat (think German or Polish sausages in a bun with sauerkraut, or Korean beef and rice with kimchi), besides the fact that it makes for delicious culinary combinations, of course: the fermented food helps with digestion of the meat, and can even lower the blood sugar response to starch.
While kimchi and sauerkraut might not be an easy or acceptable addition to everyone's holiday diet (especially if you have a house full of picky eaters!) adding yogurt to the breakfast table is a good, easy, and familiar way to start getting you and your family a food-based dose of probiotics. Just make sure you find a brand of yogurt with live active cultures (it should say so on the label, or in the ingredients list) and with low (or no) sugar for optimal health benefit. And if you can't find a brand you like, you can always make your own! Kombucha – although an acquired taste for many – can also be an excellent substitute for sugary juices, sodas, and holiday cocktails, and has exploded in popularity in recent years. Chances are good that at least a few different brands of the tart, bubbly stuff are available at your local grocery store – or you can try your hand at brewing it yourself. I do, and it's both easy, cheap, and delicious.
So whether you're looking for a way to calm holiday anxieties or something to help you digest all those Christmas hams and cookies, consider getting your healthy dose of probiotics every day.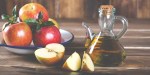 Read more:
Apple cider vinegar keeps the doctor away — but how should you drink it?