Kaszap suffered gladly for Christ, offering his whole life to God.
You can get Aleteia inspiration and news in your inbox. Our specially curated newsletter is sent each morning. The best part? It's free.
Sign up here
Born on March 25, 1916, Stephen Kaszap led a relatively normal childhood in a town south-west of Budapest, Hungary. He was raised in a devout Christian family, but as a child was prone to fits of anger and known for his obstinate behavior.
Kaszap was educated at a school run by religious priests and admits that his mischief may have annoyed his teachers at times, "In general, I was quite willful and sometimes worked around the rules but I was not perverted or corrupt. I have no doubt at all that I often irritated and annoyed the teachers."
What helped form his character was the local Boy Scout troop. Kaszap wrote in a journal about the ideal Boy Scout that he strove to become, "Whom shall I call a Boy Scout? The boy scout, par excellence, should be an example in everything. He is never rude nor silly, but earnest and manly; at the same time, he is always joyful."
He was very active as a Boy Scout (later becoming a patrol leader) and known for his skill at a game called "kim," where he was always able to remember a list of objects hidden by a cloth. One of the most influential parts of his scouting experience was summer campouts. He enjoyed rising before everyone else and praying at the edge of the forest. Kaszap was seen frequently admiring nature and praying to God while he walked.
Besides scouting, Kaszap was also an excellent gymnast. He competed nationally on many occasions, winning gold medals on combined bars, high bars and horse racing.
As he progressed in his teenage years Kaszap maintained a devotion to the Eucharist and wrote, "Oh heaven-sent holy Bread! How is it possible that I should sometimes be so indifferent towards you? I do not think about you often enough, yearning for you. I do not understand how it is that I do not meditate more on God's infinite goodness for giving us, human insects, the Body of His Only Son for food so that we might have eternal life."
He also was drawn to Jesus in his Sacred Heart, writing, "I offer my whole life as a sacrifice to the Sacred Heart of Jesus for my own and other people's many horrible sins."
Everything changed when he started to discern God's will for him after graduating from high school. He wasn't sure at first, but after a retreat with a Jesuit priest he said to his mother that he wanted to pursue a Jesuit vocation. She promptly responded, "Stephen, do you want to be such a poor priest?"
He persevered in his vocation and joined the Jesuits at Budapest in July of 1934. Kasznap was 18 years old and everything seemed to be working out.
However, his health soon took a turn for the worse and doctors were not able to treat him. Yet, in the midst of his great suffering he wrote, "Any cross God gives must be carried with joy. A little illness is more useful than ten or twenty years spent in health."
He emptied himself entirely for God, offering it up as best he could. It wasn't long until his illness took a greater hold of him. He died on December 17, 1935 at only 19 years old. He scribbled his last words on a piece of paper, "'God be with you! We will meet above! Do not cry, for this is my heavenly Birthday! May the good Lord bless you all!"
Kaszap's heroic virtue and joy in the midst of suffering inspired many people. Crowds flocked to his grave in the years following his death and the cause for his canonization was initiated in 1942. It wasn't until December 16, 2006 that Pope Benedict XVI declared him "venerable" and officially recognized his beautiful life of holiness.
His life has been an inspiration to many young people, especially those involved with the Boy Scouts.
Read more:
The Eagle Scout on his way to sainthood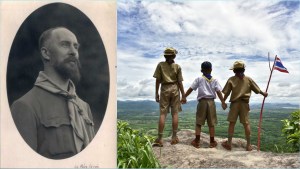 Read more:
Meet the Father of Catholic Scouting, Venerable Jacques Sevin