Pause for a minute to pray these prayers with hopeful expectation at what is to come.
New Year's Day is typically a day filled with hope, looking forward to what will transpire during the next 12 months. One of the best things we can do in the first moments of the New Year is to pause for a few moments to pray.
This helps us to remember that God wants to be a bigger part of our lives in the New Year and accompany us on our journey. Whether it be in our joys or sorrows, God wants to be there and help us draw closer to the eternal joy of Heaven.
The USCCB has a powerful and simple prayer that helps set the stage for the coming year, recognizing God's providential hand in all things, past, present and future.
Remember us, O God; from age to age be our comforter. You have given us the wonder of time, blessings in days and nights, seasons and years. Bless your children at the turning of the year and fill the months ahead with the bright hope that is ours in the coming of Christ. You are our God, living and reigning, forever and ever. R/. Amen.
Pope Benedict XVI also began each year in prayer, on a day now known as the "World Day of Peace." Here is his short prayer, asking God to make each of us an instrument of his peace in the New Year.
Here I would recall the prayer asking God to make us instruments of his peace, to be able to bring his love wherever there is hatred, his mercy wherever there is hurt, and true faith wherever there is doubt. For our part, let us join Blessed John XXIII in asking God to enlighten all leaders so that, besides caring for the proper material welfare of their peoples, they may secure for them the precious gift of peace, break down the walls which divide them, strengthen the bonds of mutual love, grow in understanding, and pardon those who have done them wrong; in this way, by his power and inspiration all the peoples of the earth will experience fraternity, and the peace for which they long will ever flourish and reign among them.With this prayer I express my hope that all will be true peacemakers, so that the city of man may grow in fraternal harmony, prosperity and peace.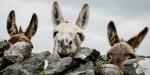 Read more:
Let "Prayer of the Donkey," written for children, set the tone for the New Year