It's not simply about ending an addiction, but finding greater balance for your entire well-being.
In the US, 15 of every 100 adults smoke cigarettes, and although it's a habit that has declined in recent years, there's still a long way to go. Smoking doesn't simply harm your health (the obvious) — there is much more going on behind someone's decision to break open a pack of cigs. It speaks to an unbalance in overall well-being, which is why that's exactly where much smoking cessation research has focused its attention in recent years.
There are dozens of methods out there that promise smokers they'll be able to quit their habit: drugs that work on the pleasure centers of the brain, patches that provide minimal doses of nicotine, and several other substances. But it's not just about putting out the cigarettes for good, it's about adopting a healthier life, holistically.
We talked with three specialists — the CEO of Smokenders, the founder of the app Craving to Quit, and the director of mindfulness education at UCLA — who all incorporate mindfulness and as well as whole-body mental and physical health into their programs, about how these processes can offer a different path toward better health and living.
Quitting through learning
"Keep smoking while you learn to quit." This is the phrase members hear when they enter the door of a Smokenders meeting, which immediately shatters preconceived notions about a smoking cessation course. This is important because prohibition only triggers more anxiety, and the idea is to get people into the correct mindset. The philosophy behind this course is education — just as there was a learning process to incorporate the cigarette into your life, there is a learning process to let it go. Jacqueline Rogers, the creator of the course, founder of the company, and a former heavy smoker herself, used her degree in psychology to create a program that would allow her to quit in 1969, and it turned out to be so successful that she took it public. The seven-week program is now online.
Don Seibert, CEO of Smokenders Worldwide, explained that in creating the program, researchers analyzed feelings, emotions, physical reactions, and behaviors related to the habit. Smoking is related to four areas that should be considered when starting a process to quit: the physical addiction; the sociological, which links to food, caffeine, and alcohol; the psychological or emotional triggers caused by stress, anxiety, depression, loneliness, etc; and the habitual, or the conditioned responses and behaviors that build up around smoking.
"Unlike most smoking cessation methods — such as nicotine replacement therapies, which are directed solely toward the physical addiction to nicotine — the program is centered around helping the smoker learn how to quit. This process helps them understand that smoking is much more than just the nicotine issue, but also the many other aspects of the habit," explains Seibert, who went through the program himself and hasn't smoked since 1981.
The course has an 80 percent success rate, which amounts to over two million success stories. "One popular method of quitting is the 'Cold Turkey method,' in which a smoker abruptly discontinues the use of tobacco products and suffers pretty severe withdrawal effects as a result," notes Seibert.  "Less than five percent of those attempting to quit this way are successful, although most smokers have attempted to do so more than twenty times."
The longer a smoker continues to smoke, the more they have to rationalize and to justify their smoking habit. Therefore, besides the physical benefits, Seibert believes that quitting also improves personal pride and self. "Before quitting my four pack per day smoking habit with the method, I was a very busy husband and father of two small girls who were increasingly bothered by the cloud-filled house they lived in and my inability to justify to them why I did such a nasty thing," he said. "I tried to ignore their pleas and had lied to them about how little harm there was in smoking. As a result, I knew, deep down inside, that I was being dishonest with those whom I loved the most! This hurt, but not enough to get me to quit."
Then, a scary event provided the real turning point. A volunteer firefighter, Seibert had become trapped in a burning building and was rescued by his fellow firemen. As he was being loaded into the ambulance, he was choking, coughing and spewing black gunk … but insisted on having a cigarette before the paramedics administered oxygen to him. He quit for good one month later.
Quitting through mindfulness
There has been a lot of research surrounding the relationship between mindfulness and addictions, both to prevent them and stop them, since stress is one of the strongest detonators for the habit. Therefore, incorporating stress management techniques to replace substance use with healthy coping skills have become a popular approach in the treatment field.
"Mindfulness is very helpful for learning impulse control and resisting addictive patterns," explains Diana Winston, director of Mindfulness Education at UCLA's Mindful Awareness Research Center. "Most of the time we are acting out of our unconscious patterns. If a desire arises for something (a cigarette, cake, etc.) we usually simply follow that desire. However, if we are mindful, we can notice when the desire arises and then, because we are aware of it, we have a moment of choice … we don't have to be at the mercy of our desires."
Winston points out that the approach explores the underlying feelings that lead to a need to smoke, and once a person deals with these, he or she will have a lot more mental freedom.
Mindfulness has also been proven to be an effective way to prevent a relapse. There are many methods to quit smoking, however many are only focused on replacing the addiction with a medication, or just stop doing it without a conscious process that involves a choice. These kind of methods are very likely to relapse because the core issue was not dealt with. In one of the programs, called Mindfulness Based Relapse Prevention, a technique called "Urge Surfing" is used. In the moment you notice a desire arise, just like a surfer, you learn to allow it to rise, crest and then fade away.
Psychiatrist Judson Brewer, former medical director of Yale's Therapeutic Neuroscience Clinic, and creator of the app called Craving to Quit has also been very active on this topic. "We started by testing to see if mindfulness training could help with alcohol and cocaine dependence. In fact, it was better than the gold standard in the sense that people had lower physiological and psychological reactions to stress, which is a main driver of drug use and smoking," Dr. Brewer says. His method uses mindful techniques and implements them through an app, so they can be available at any moment, whenever the person needs them.
Dr. Brewer also explained that there are a number of aspects that work together when combining mindfulness and quitting. "One critical aspect is getting really curious about what we get in the moment we smoke," he says. "Reward-based learning is based on rewards, so these 'rewards' get updated in our brains when we clearly see what smoking is like." By learning to pay attention, people realize other aspects of their habit they had been ignoring, such as the taste, or the smell, and start to get disenchanted.
He's also combined reward-based learning with technology in order to follow his patients to the places where they actually smoke. "People don't learn to smoke in my office, so it is artificial to try to have them quit smoking while they are sitting in my office," Dr. Brewer says. "The aim is to bring my office to them, and help them learn right in the context in which they need it most." He provides app-based training that helps people learn to work with their cravings the moment they arise. His structure is centered on helping out with psychological cravings through bite-sized training every day in the form of videos, animations or in-the-moment exercises, designed to learn how to manage triggers and cravings.
His method has shown a greater success rate in quitting and recidivism than other programs, including the American Lung Associations' Freedom From Smoking. He also implements sitting meditations, practices to deal with self-judgment, and an online support community.
Bring mindfulness into your life
Diana Winston offers a few tactics to use in your everyday life in to bring mindfulness into your routine and free yourself from smoking:
STOP: Stop, and take a breath.
Observe: What's happening inside your body at this moment? What do you notice in this moment?
Proceed with kindness.
Urge surfing: Notice a desire arise, allow it to rise, crest and then fade away.
Start with five minutes a day!
Listen to guided meditations. There are some for free on the UCLA MARC website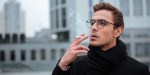 Read more:
There's a way to get people to stop smoking, and Sweden has done it