Start your year with a healthy dose of the Desert Fathers.
You can get Aleteia inspiration and news in your inbox. Our specially curated newsletter is sent each morning. The best part? It's free.
Sign up here
The Desert Fathers may have lived in 4th century, but their lives and spiritual wisdom can still penetrate our thick modern-day souls.
Their sayings were originally compiled into a volume called the Sayings of the Fathers in the 5th century, representing a small portion of their profound insights. The Sayings provide numerous small quotes that pack a large spiritual punch.
Here is a short sampling of five sayings from the Desert Fathers that will help you start the New Year on the right (spiritual) foot.
Abba Anthony said, "I no longer fear God, but I love Him. For love casts out fear. (John 4.18)"Abba Agathon said, "I have never gone to sleep with a grievance against anyone, and, as far as I could, I have never let anyone go to sleep with a grievance against me."Abba Anthony said, "Whoever hammers a lump of iron, first decides what he is going to make of it, a scythe, a sword, or an ax. Even so we ought to make up our minds what kind of virtue we want to forge or we labor in vain."A brother who shared a lodging with other brothers asked Abba Bessarion, "What should I do?" The old man replied, "Keep silence and do not compare yourself with others."Abba Anthony said, "A time is coming when men will go mad, and when they see someone who is not mad, they will attack him saying, 'You are mad, you are not like us.'"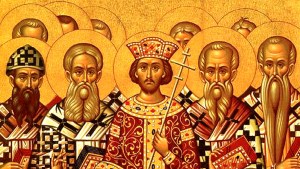 Read more:
5 Sayings from the Desert Fathers on how to pray