Heather Mosher was determined to reveal her love for her husband before she breathed her last.
Nearly one year ago, on December 23, 2016, Heather Mosher from Connecticut experienced a most bittersweet day. After receiving the devastating news that she had breast cancer, her boyfriend, David Mosher, took Heather on a horse-drawn carriage and proposed to her under a street light.
David described the couple as being "inseparable" after they met at a swing class just over a year and a half ago and explained: "She didn't know I was going to propose that night, but I said to myself, she needs to know she's not going to go down this road alone." Sadly, five days later the couple received the news that the cancer was "triple negative, one of the most aggressive forms of breast cancer."
Over the following year, Heather battled the disease with David at her side. As he shared with WFSB, their lives became "consumed with cancer." Despite her fighting spirit, the couple discovered that the cancer had spread to her brain and within a few months Heather had to go on life support to help her breathe. "She was tough. Anyone else would have given up a long time ago. The doctors even said we don't know how she's still here," David said.
However, cancer was not going to beat the couple's love and desire to marry. Although they had planned to exchange vows at Plantsville Congregational Church on December 30, doctors quietly advised David to move the date forward. So on December 22 the couple said their vows in front of their family and friends at the hospital's St. Francis chapel.
"We were losing her as we were all standing there, thinking, to hold onto this, because this was the last she had to give," Heather's bridesmaid, Christina Karas, shared. Luckily, through the emotions, Karas was there to capture the poignant moment when the bride stretched out her arms with pure joy; jubilant in being able to declare her love for the man who didn't abandon her in her time of need. "The last words she said were her vows," said Karas.
The stoic groom proclaimed: "She's my great love, and I'm going to lose her, but I'm not losing her forever." Just 18 hours later on December 23, a year to the day she became engaged, Heather died a married woman. As David shared: "She was able to fight 'til the end, I'm going to fight until my end."
Heather's story is what a wedding is all about. Not an expensive dress, flowers, and the perfect venue, but declaring your love and commitment to that someone special, and showing them that you will be by their side as you navigate life's journey together, no matter how long, or short.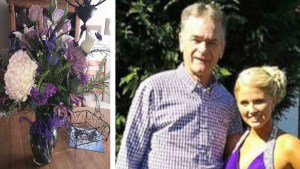 Read more:
How one dad made sure his daughter knew his love … long after he was dead