"Don't be afraid to ask for forgiveness ... look for a good confessor and do a thorough cleaning!"
"Look for a good confessor and do a thorough cleaning!" This was Pope Francis' reminder to Catholics to visit the confessional. In this Christmas season, it's too easy to focus on the get-togethers, decorating, gifts, and food, and put our souls last! The pope, however, emphasized that we should seek not just a merry Christmas but "a happy Christmas in the heart, in the family, also in the conscience."
During a Christmas gathering for Vatican employees and their families on December 21, the Holy Father said:
Happy Christmas! — but a Happy Christmas in the heart, in the family, also in the conscience. Don't be afraid, you too, to ask for forgiveness if your conscience reproaches you for something; look for a good confessor and do a thorough cleaning! They say the best confessor is the deaf priest [he laughs]: he doesn't make you feel ashamed! However, without <their> being deaf, there are so many merciful <confessors>, so many who listen to you and forgive you: "Go ahead!" Christmas is a good opportunity to make peace also within ourselves. We are all sinners, all. Yesterday I made my Christmas confession: the confessor came … and it did me good. We must all go to confession.
As the pope was speaking to employees of the Vatican, he also took the occasion to also ask for forgiveness, for himself and other members of the clergy with whom these employees work.
"I'm sorry because we do not always set a good example," he said. "There are mistakes we clergy make in life — sins, injustices, or sometimes we treat people badly, (we are) a bit neurotic.
"Forgive us for all these examples that are not good. We must ask for forgiveness. I also ask for forgiveness, because sometimes 'I fly off the handle,'" he said with a chuckle.
Not long ago, I read a beautiful reflection on the need for Confession in general, and especially at Christmastime, by Retired Auxiliary Philadelphia Bishop Louis A. DeSimone.
"Just like the body cannot live without food, the soul cannot live without grace – the presence of God, the presence of the Holy Spirit," the good bishop reflected.
"The Lord in His goodness gave us seven channels – the sacraments. One of them is, in my opinion, perhaps the most beautiful of all: the sacrament of reconciliation," he continued. "Why? We all know our limitations, we all know we are sinners."
As in the parable of the Prodigal Son, "we want to go to Him and say, 'Father, please forgive me. You can make me whole. Open your heart wide and tell him everything without fear of anything at all because that man is going to give you the words of absolution as if they came from the lips of the Father."
If we've let Christmas Day pass us by without visiting the confessional, we can remember God is still waiting for us there.  We can have a new beginning the next time we receive the Eucharist by "wiping the slate clean" in confession beforehand.
"With all that's going on, we want to be absolutely ready to receive that little Infant Jesus. … I want to go as white and pure as I can."
A helpful examination of conscience can be found in this article: Confession with Pope Francis: The 3-step outline for doing an Examination of Conscience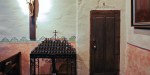 Read more:
I know we encounter Christ in confession, but I wasn't expecting THIS!




Read more:
Don't put that Christmas tree away! The Christmas season has just begun