In our exclusive interview, director Greta Gerwig discusses her own Catholic school experience.
Variety, thy name is the Golden Globes.
Just a quick look at the nominees for Best Comedy or Musical, and you'll see what I mean. You'll find a sumptuous musical in The Greatest Showman. A horrifically clever satire in Get Out. There's the tabloid tale of I, Tonya and the ludicrous farce of The Disaster Artist.
And then there's Lady Bird, perhaps the year's biggest cinematic paradox. It's a little indie movie with a big following, an R-rated comedy with some beautiful messages about family and faith. It's a small, intimate, personal story that somehow feels universal.
But don't take my word for it; listen to the movie's writer and director, Greta Gerwig:
"It's fascinating to me," she told Aleteia. "I've had men in their 70s tell me, 'I am Lady Bird,'" referring to titular high school senior played by Saoirse Ronan. Gerwig says that some younger fans connected more to Lady Bird's mother, played by Laurie Metcalf. (Both have been nominated for Golden Globes.) "It was really important to me not to have any villains," Gerwig adds. "Everybody in this film is doing their very best."
Not that their very best always looks pretty.
At the center of it all is the titular character — born Christine McPherson but who'd much rather be known by "Lady Bird," a name she gave herself. In the movie's press notes, Gerwig says that quirky name was really the seed from which the whole movie grew.
"Early in the writing process, I kept coming up against something that I couldn't break through," she said. "I put everything aside and wrote at the top of a blank page: 'Why won't you call me Lady Bird? You promised you would.' I wanted to get to know this girl who makes everybody call her by this odd name. The name came out of something mysterious. I had not thought of it before I wrote it."
But it's not just her given name that Lady Bird has rejected. It's almost everything: Her family (especially her nitpicking mother, Marion). Her upbringing. Her hometown of Sacramento, California. And she especially wants to break away from her Catholic school.
It'd be easy to see some autobiographical threads running through Lady Bird. Gerwig, too, grew up in Sacramento. And while she's no longer a practicing Catholic, she went to a Catholic school. But the similarities pretty much end there.
"I loved it," Gerwig says of her Catholic school. "I was kind of the opposite of Lady Bird. I was a much more color-inside-the-line type of kid."
Of her own school's teachers and administrators, she says "a lot of them were just incredibly compassionate and funny and empathetic and thoughtful." Nuns who rapped students' knuckles with rulers, she added, "was not my experience at all."
Gerwig wanted to bring her own experience to the screen, not the one so often stereotyped in movies. Lady Bird's educators blossom into fully fledged and deeply sympathetic characters. They're not necessarily perfect, but they're human. And without exception, they care deeply about the students in their charge — even one as unique and pugnacious as Lady Bird.
Perhaps the most delightful is Sister Sarah Joan (Lois Smith), who serves as both a teacher and mentor to Lady Bird.  "She's wise without being pretentious," Gerwig says of her. "She's wise because she's able to meet this girl where she is."
When Lady Bird, in an effort to curry favor with the in-crowd in school, festoons the sister's minivan with crepe paper and tin cans and writes "Married to Jesus" on the back window, Sister Sarah Joan doesn't get mad. "It was funny!" she admits later. Funny and, in fact, true. She's been married, in a sense, to Jesus for more than 40 years, she says  — to which Lady Bird reponds, more in earnest than in jest, that Jesus is a lucky guy.
Gerwig wanted to imbue both the school and the movie with a sense of grace. Lady Bird receives a lot of unexpected moments of grace that she neither deserves nor truly notices. The concept of grace has long fascinated the director.
"I remember grace being explained to me as completely unexpected and wholly undeserved," she says. "One of the reasons you baptize babies is because you can't earn [grace]. It's given to you. I always thought of that as a beautiful thing. … I wanted to find a way to weave that into the story without being too heavy-handed about it."
But Lady Bird is young and searching for her own answers, and she spends much of the movie rejecting the grace she's been given.
There's a beautiful moment when Sister Sarah Joan talks to Lady Bird about an essay she's written about Sacramento — a town Lady Bird's dying to leave — and the sister says that her love for the city comes through.
Lady Bird rejects the very notion, only admitting that she simply pays attention.
"Don't you think maybe they are the same thing?" Sister Sarah Joan suggests. "Love and attention?"
Gerwig says she wanted that moment to be both profound and "thrown away," because that's often how profundity reaches us in real life. We don't see it for what it is at the time. "I like it when epiphanies come after," Gerwig says. And indeed, Lady Bird lets the moment go by with barely a blink. Only later does she realize how much she does indeed love and appreciate Sacramento. Her family. Her school. Even faith.
"I think [attention] can be given to things that are not important and are not worthy," Gerwig says. "But if you are paying attention to a person, to a place, it can be an act of love. An act of devotion."
Gerwig pays attention to people who pay attention. She's always been fascinated by the lives of the saints, she says, "because sometimes they didn't seem like such promising individuals." She namechecks St. Ignatious of Loyola, who started out as a vain, womanizing, easily aggrieved soldier who went on to found the Jesuit order. "You don't have to be perfect," Gerwig said.
Lady Bird, the character, is not perfect. Nor, for that matter, is Lady Bird, the movie. It's quite profane and deals with all sorts of discomforting subjects, from premarital sex to homosexuality to, briefly, abortion. But that said, I don't know if I've seen a more sincere, heartening look at faith in a secular movie this year.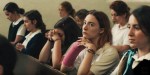 Read more:
Bishop Barron on 'Lady Bird' and the breakthrough of Grace