How to take the happy feelings of your past and live the same kind of amazing day now.
Nostalgia can get a bad rap, almost as if it's a character flaw to linger for even a moment and remember the past fondly. Nostalgia is wrapped in sickly-sweet overtones, and those who indulge in it might be accused of seeking to retreat to a past reality that never really existed.
There's some truth to this. For instance, now that I'm middle-aged dad, I notice myself saying to my children that "back in my day" music was better, television was better, no one stared at their phones all day, people were nicer, and kids could roam the streets from sun-up to sun-down and never be scared. Best of all, Pizza Hut had a lunch buffet. Those were the good ol' days.
It's fairly easy to fabricate memories, or at least to remember only the good and forget the bad. Did Pizza Hut really have a lunch buffet? Did they really invent a dessert pizza and allow me to eat as much of it as I wanted? Maybe I'm remembering it all wrong. It really is true, though, that there was never a perfect time. Living in the past, if it takes up too much mental energy, can be a symptom of an unhealthy avoidance of the present.
That doesn't mean that going to the other extreme and entirely avoiding nostalgia is better. Rejecting the past  is equally problematic. The drive to always have something new and better, to move on without a second thought and reject any sentimentality, may be appealing because it seems like a way to get on with the real business of life and stop wasting time. We see the signs of this attitude all around us in mantras like "Live in the moment" and "No regrets." The problem is, this attitude may simply be a way of avoiding having to deal with past mistakes or amend future behavior.
We almost can't help being nostalgic, though, at certain times of the year. For example, it seems as though everyone was sharing favorite memories and best-of lists for 2017 over the past week. We even see the desire for nostalgia in our culture more broadly. Take, for example, a social phenomena as simple the trending shows on Netflix. Looking at my account, I see one of the Star Wars movies, Rogue One. I also see Friends, Frasier, and Stranger Things. Some of those are new shows designed to capture a sense of nostalgia and some are legitimately pieces of nostalgia from decades ago that are experiencing a revival of interest. People love these shows. In fact, some of the most binge-watched shows include the Gilmore Girls and Fuller House.
So, we all do it, but is there anything good about indulging in nostalgia?
To answer that question, it helps to think about a childhood experience that perhaps many of us have had. I went away to summer camp once when I was about 10 years old. It was only for a week and I loved it, but at the same time I was incredibly homesick. I found myself longing to see my parents and thinking about them. This emotion of homesickness is closely related to nostalgia and it points to an irreplaceable, positive aspect of the emotion – even though it causes sorrow it draws us closer to home. If the heartache of missing my parents made me realize how much I loved them, that's a good experience to have.
Before he became Pope Benedict XVI, Joseph Cardinal Ratzinger wrote a reflection on beauty. In it, he recognizes the value of nostalgia, writing, "Nostalgia and longing impel him to pursue the quest … the arrow of nostalgia pierces man, wounds him and in this way gives him wings, lifts him upwards toward the transcendent."
In other words, nostalgia is good for us because it reveals a longing for home, which includes all things that make us feel love and fulfillment. Nostalgia is a great motivator, making us restless and creating in us a desire to seek our eternal destiny.
At its best, nostalgia doesn't remain in the past, because it isn't a requiem for a past time so much as it's a living witness to how great life can be, inspiring us to create new memories here and now. Even the future is given new hope by nostalgia. Ratzinger says that it will motivate us to keep striving towards our heavenly home, because even if it makes us feel somewhat dissatisfied with the unstable, changing nature of life, those feelings are a sign that the fulfillment of our desires is out there. It sets us off on a great journey to find our true home.
So I say, enjoy your memories. Check out your family photos and tell stories with old friends. Look back on the year you've just completed and appreciate it. And then take that energy and those happy feelings and live the sort of amazing day today that, a year from now, you can look back on with nostalgia.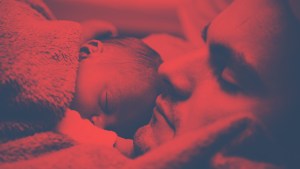 Read more:
Gratitude is when memory is stored in the heart, and not in the mind.
Read more:
How Far Have We Come? Remembering the Catholic 1980s