Sure, they may not know how to crack an egg, but they'll never learn if they don't try ...
My kids love watching the Food Network, especially the shows with kids. Chopped Junior, Kids Baking Championship, whatever the episode is, they're glued to the TV. They're fascinated by kids their own age making complicated dishes with no recipes, inventing pastries and four-course meals and mock mole sauce with exotic ingredients. Often, they ask to imitate what they see. Usually I say no, because it would end up being a lot of work … for me.
I'm not the only mom in the world with this dilemma. Over at Scary Mommy, one mom recently wrote about an experiment she did with her 9-year-old after they watched an episode of Chopped Junior together. She resolved, right then and there, to say yes every time her daughter asked to cook or bake. A year later, her daughter was able to make anything and everything she could imagine. In fact, her cooking skills had so far surpassed her mom's that she was the designated class-cupcake maker.
My daughter will have these skills, this confidence in herself, for the rest of her life. And that to me, is worth all the wasted eggs, the spilled milk, and the messy kitchen. So fellow parents, I encourage you to really stop and think when your child asks to do something, not just in the kitchen, but anything that might result in them learning a new life skill.
When my oldest daughter was nine, I woke up one morning to the smell of breakfast. She was in the kitchen flipping pancakes, having gotten down my recipe book and mixed together the complicated pancake recipe I'd been using for years. She'd separated the eggs, made the buttermilk from milk and lemon juice, sifted the flour, and brought the whole thing together into airy, golden cakes bubbling in the cast-iron pan.
I had no idea she could make pancakes. I had no idea she could separate eggs, actually, but somehow she had learned while I wasn't paying attention, distracted by toddler messes and morning sickness. For the first time, I was grateful that I had been too distracted to stop her. I would have said no, that she didn't know how, would need help, couldn't do it on her own. But she knew better, and without my "no" to hold her back, she proved it.
My other kids haven't been so lucky. I've been less distracted, more aware of messes and burns and our weekly food budget. My second daughter is nine now, and she's nowhere close to being able to make pancakes. She can't measure flour, much less separate an egg.
At least, I think she can't. I'm not actually sure because she's never had the chance to try. She hovers in the kitchen when her older sister cooks, asking to help but being relegated to the grunt work, getting flour and sugar from the pantry, scooping cookie dough onto pans, sprinkling sugar. Easy things. Things she hates doing because she knows she's capable of more.
She's watching Chopped Junior as I type, her eyes widening as kids her age sear, sauté, flip, and baste. "Do you think I could do that, Mom?" she asks wistfully, already sure of my answer. It's the same every time: Sure you could, once you learn how. I'll teach you to cook, but not right now. Later, when you're older, taller, bigger. When you can reach the stove without a stool, when you can wash the dishes well. 
"Yes," I say. "I think you can."
"Right now?" she asks, her full attention on me now.
"Right now," I say.
She smiles, surprised and pleased, and abandons the TV for the kitchen and its infinite possibilities.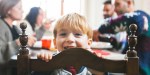 Read more:
The best thing you can do for your children this year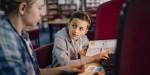 Read more:
Here's the one predictor of whether your kids will be successful in life