Where did St. John the Baptist get the idea?
What can God do in your life with one Bible verse a day?
Subscribe to Aleteia's new service and bring Scripture into your morning:
Just one verse each day.
Click to bring God's word to your inbox
When we first meet St. John the Baptist in the Gospel of John he is, not surprisingly, baptizing people. However, the Pharisees have a problem with his activities and question him about it.
"Then why are you baptizing, if you are neither the Christ, nor Eli′jah, nor the prophet?" John answered them, "I baptize with water; but among you stands one whom you do not know, even he who comes after me, the thong of whose sandal I am not worthy to untie." This took place in Bethany beyond the Jordan, where John was baptizing.

John 1:25-28
This is a valid question, one that has puzzled many Christians as well since it is easy to associate baptizing people with the sacrament of Baptism. Yet, John wasn't performing a sacrament, so why was he baptizing people?
The Bible gives us at least one hint as to the motivation of John. In Mark we read, "John the baptizer appeared in the wilderness, preaching a baptism of repentance for the forgiveness of sins" (Mark 1:4). For John, pouring water over a person's head was an exterior sign of an interior conversion.
The crowd listened to the inspiring words of John and were motivated to change their lives, leaving their lives of sin. After repenting of their transgressions they let John immerse them in water so that they could die to their past and go forth born anew. The washing of water symbolized the washing of their sins away.
Some biblical scholars and historians believe John may have been influenced by the Jewish sect known as the Essenes. They are most famous today for being connected to the Dead Sea Scrolls. Among their traditions was a baptism of repentance. The Essenes were deeply invested in the coming of the Messiah and dedicated their entire lives to studying ancient texts. John lived many years in the wilderness and it is possible that he knew of them and their teachings.
On the other hand, ritual bathing was a common practice in the Old Testament, stemming from the need to cleanse oneself from things that made a person "unclean." In Leviticus we find such instructions, "And he who is to be cleansed shall wash his clothes, and shave off all his hair, and bathe himself in water, and he shall be clean" (14:8).
A similar practice is found in the Gospels, when Jesus instructs a blind man to "Go, wash in the pool of Silo′am" (which means Sent). So he went and washed and came back seeing" (John 9:7).
In the end, John was adapting various customs of ritual bathing and "preparing a way for the Lord," helping people open their hearts to the Messiah who would come to baptize not only through water, but with the Holy Spirit (cf. Matthew 3:11).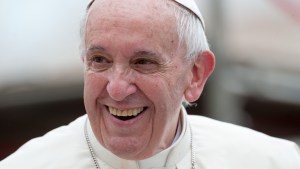 Read more:
"Learn the date of your baptism," urges Pope Francis