My feisty 2-year-old has suddenly revealed a really uncomfortable truth.
My husband and I are blessed to be the parents of a feisty 2-year-old girl. Carmen is the youngest of our six children, and keeps us alternately laughing and groaning.
The other day, as I waited impatiently for approximately five eternal minutes while she wrestled with the socks that she insisted on putting on herself ("I do it, mama!"), it dawned on me that we are really not that different, she and I. In many ways, I am to God very much what my youngest daughter is to me — stubborn, short-sighted, immature, defiant, often foolish — and yet oh so lovable. The realization was humbling, and for a minute I tried to bury the thought that I might be the equivalent of a toddler in God's sight. But the parallels quickly became uncomfortably clear.
She explodes into an emotional outburst when something isn't quite to her liking — say, the toast is cut wrong, I choose the out-of-favor dress, or heartlessly give her a regular spoon instead of the plastic Star Wars one.
I have my own mini outbursts when someone puts the toilet paper roll on the holder backwards (forward-rolling only, please!), loads the dishwasher all wrong (because there's only one right way), or leaves his or her dirty socks on the living room floor.
She hollers with rage if someone takes her doll, her cup, her Lego, her cheese, her …
I fume inwardly when someone uses my phone or laptop charger and doesn't replace it quickly, or when I can't find my car keys, even if I'm the one who misplaced them.
She is quick to tattle on her siblings or pass the blame whenever possible. I've come to expect her predictable "Eva did it!" when I inquire into the source of the latest mess, even as she's wiping cookie crumbs off her face. It's just a small hop from Carmen's self-justifying impulse to Adam's sly "The woman you put here with me – she gave me some fruit from the tree, and I ate it."
I am reluctant to accept full responsibility for my mistakes, offenses and shortcomings. It's easier and less humiliating to blame the weather, the other person's rude comment, or tiredness than to admit how completely I messed up.
She insists on doing things herself, the slow, laborious, painful-to-watch way, instead of letting me help her and show her a better way.
I insist on tackling too many problems by myself, the painful, clumsy way instead of faithfully seeking God's help and humbly yielding to His guidance.
She shouts "No!" too often at my perfectly reasonable suggestions and commands. ("Put on your hat. It's cold outside!" "No! I okay!")
I shout "No" too often, in my heart, to God's loving suggestions and commands. ("Spend more time in prayer; we're drifting apart." "No! I've got to fold that 84th load of whites and watch Netflix!")
She inhales fruit snacks and donut holes but picks slowly and unenthusiastically over her healthy dinner. And defiantly hides the broccoli in her cheek.
I lose my sense of time and realize I've spent 40 minutes on Facebook instead of the 10 I had intended. I look eagerly forward to movie night, but struggle to stay alert for 15 minutes of prayer at the end of the day.
The list could go on. For every one of her immature or exasperating traits, I see it's reflection in myself, as I relate to my Heavenly Father.
But I wonder if she might actually be a step ahead of me — because she has perfected "Sorry, mom!," because she trusts me so completely, because her remorse (if temporary) and her tight little hugs are so wholly sincere, and because she loves with such joyous, carefree abandon.
As for me, I haven't matched her yet on those childlike traits. But with repentance, confession and joyful acceptance of forgiveness, I can get a step closer. We both have a lot to learn.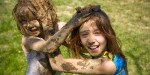 Read more:
5 Spiritual lessons we can learn from little children