God does something amazing with our messes.
One of the questions that has always perplexed me is that of the relationship between human choice and divine providence. On the one hand, we are able to freely choose our actions. On the other hand, we believe that God's loving will guides all things. How do we reconcile these two? How can we be both seemingly fated and free? How can God's will include tragic deaths and senseless accidents, or does it? I've wondered about such things since I was a child.
Fittingly, it was in a children's book that I came across a profound answer. In the story, a little girl is painting a picture on a rainy day. When her dog runs into the room to play with her, he treads through the paint and leaves paw prints on the paper. At first the girl is upset, but then she hits upon an idea: She makes the paw prints part of her picture, adding stems and turning them into flowers.
I had always found the notion that "God brings a greater good out of evil" to be a difficult notion to understand, and I doubt I'm the only one. But this simple story actually helps me a bit. (Obviously we can never truly resolve the mystery of evil, which has perplexed humanity for millennia, but every little insight helps.)
Throughout time and space, God paints the picture of his creation, with the story of human beings coming to fulfillment in the love and knowledge of Him in the foreground. But he has also given us the ability to refuse that knowledge and reject that love, to act against our nature, to run rampant over His creation and put paw prints everywhere. We are painted figures who have real brushes in our hands, assisting in the development of this work of art. And we are capable of making quite a mess!
But God does something amazing with our messes. Rather than just erasing our actions or taking away our freedom, taking away our brushes, God turns every moment of evil suffered or committed into a potential moment of grace and renewal: a chance to turn to Him, to trust in Him, to hope and repent and remember that what we need ultimately, more than anything else in existence, is God. ("Where sin abounds, grace abounds all the more.")
And He does this most profoundly by entering into our suffering with us, by taking all evil onto Himself and giving it meaning by turning the greatest sin (the Crucifixion, man killing God) into the greatest act of love (the Redemption, God saving man). The Cross is the stem that turns sin into salvation.
Part of our difficulty arises when we're unable to perceive the good that has been brought forth. Sometimes we can only see the paw print, and we can't see the stem that turns it into a flower. Sometimes that flower doesn't bloom for years and years, and in the intermediate time we suffer and question. We're like the disciples on the road to Emmaus, who have witnessed Jesus' saving acts but have not understood their significance.
This is where we must walk by faith and not by sight. This is the challenge of trusting in those darkest moments that we are not abandoned, that the painter has not left the easel and given up His work. As parts of the painting ourselves, we cannot see every part of it, and cannot perceive the brush strokes giving form to the image elsewhere on the canvas.
This is not easy to do, and we should not judge or begrudge any person, including ourselves, who falls into a moment or period of doubt. We are frail and fragile creatures, and the enormity of life can be truly overwhelming at times. Sometimes the most we can say is this: God is not done painting His picture, and we are not finished being painted. And to quote the Grey Pilgrim, that may be an encouraging thought.


Read more:
The Holy Spirit as Divine Artist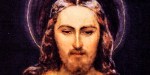 Read more:
Praying this litany will give you peace about the past and future