If you sense something missing in your approach to sharing the Faith, this book might be a huge help
In her book, How the West Really Lost God, Mary Eberstadt wrote, "The Christian story itself is a story told through the prism of the family. Take away the prism, and the story makes less sense. We men and women, whether inside the churches or not, are only at the beginning of understanding how the fracturing of the natural family has in turn helped to fracture Christianity."
That was my first exposure to the notion that the loss of common familiar concepts like "family" could shatter opportunities to build a relationship with God.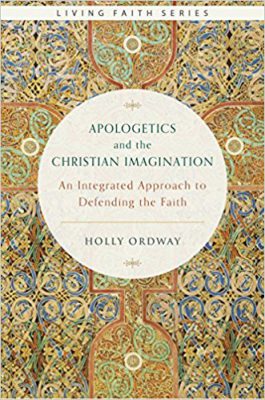 In Apologetics and the Christian Imagination: An Integrated Approach to Defending the Faith, academic and former atheist Holly Ordway builds on Eberstadt's wise observation, and demonstrates how an imaginative approach—in cooperation with rational arguments—is extremely valuable in helping people come to faith in Christ. Ordway was kind enough to answer a few questions about her book with Aleteia.
1) What inspired the book?
Two things. First: My own experience of conversion from atheism to Christian faith, and then the continuance of my journey into the Catholic Church (all of which I write about in my memoir
Not God's Type
). Imaginative literature was profoundly important in helping me become interested in the
questions
 about Christian faith — which was necessary before I would consider the answers! — and in helping me find the answers meaningful. So many people have responded positively to
Not God's Type
that I realized that it would be helpful to write about how to help others make the same journey that I made.
Second: In my teaching and speaking in apologetics, over the last six or eight years, I have seen time and again that people sense something missing in their approach to sharing the Faith; they are aware that even very strong apologetics arguments just aren't having much of an impact on most people. When I've presented the case for an integrated approach to apologetics, one that draws on imagination and attends to the meaning of the words we use, the response has been "Yes! This is what we need!"
Hence this book.
2) If you could give this book another title, what would it be?
The working title was Imaginative Apologetics. 
3) Did writing this book teach you anything?
I had to practice what I was preaching! I realized that words like "imagination" were not as clear or as meaningful to my audience as they are to me, so I had to slow down and figure out how to express, for a layperson, ideas that were familiar to me because I have been working with them for many years.
4) What would you point out about the book that people might overlook?
Each chapter concludes with a poem (an original poem that I've written) which reflects on, or in some way responds to, the content of the chapter. So, each chapter both presents a (rational) case for the use of imagination in apologetics and evangelization, and gives an instance of an imaginative engagement with the ideas. I want my readers to have the opportunity to see an imaginative approach to apologetics in practice! So, reading and reflecting on (and perhaps discussing) the poems after reading the chapters allows readers to practice the integrated approach that I outline in the book.
Also, I've provided additional resources: there's a suggested further reading list in the back of the book. I've also created a discussion/study guide; anyone who wants to use it in a class or discussion group can
just send me a message
, and I'll share the study guide with them.
5) If there is one person you want to reach with this book, who would that be?
Someone who is responsible for teaching others about the Faith: this might be a parent, a priest in his homilies, a teacher in Sunday school or RCIA, a classroom teacher, or really anyone who is on the receiving end of a question like "Why do you believe that?" or "Why do we do that?"
What all these roles have in common is that they require attention to the meaning of words and ideas. Today, we just can't take for granted that people understand what we mean by words like "sin" or "grace" or "resurrection" — much less words like "sacrament"! The whole first part of my book is devoted to helping people learn how to make our words and ideas meaningful to those to whom we speak. (The second part puts this into practice in specific areas.)
That description encompasses a lot of people who wouldn't perhaps think of themselves as "apologists" — but that's my point.
6
) What is the ideal beverage to have in hand while reading your book?
A cup of tea would be great, not least because I refer to tea in one of my illustrations about the process of creating meaning! But really, a beer or a glass of wine would do nicely as well: anything that encourages the reader to relax and mull over the book.
***
We are a participant in the Amazon Services LLC Associates Program, an affiliate advertising program designed to provide a means for us to earn fees by linking to Amazon.com and affiliated sites.