The solution might be easier than you think.
Any Catholic parent will tell you that they have struggled at some point with getting their children to participate at Mass. When children are young, often the challenge is getting them to sit still, and keeping them from overshadowing the priest and choir with their vocal prowess. As they get older, that vigor somehow decreases exponentially — until it can be difficult to even find your child in the pew next to you, due to their incredibly quiet composure.
So what to do?
You decide that you are going to take the bull by the horns. You get up early and find the readings for the day in order to discuss them with the family before heading out the door. You get to Mass early, sit in the front so you can see Father (and Father can see you and your kids). Or maybe you cozy up to the choir in hopes that their melodious tunes will inspire an increase in your child's/children's participation. You make sure to grab a liturgy guide or missal for each and every member of the family. You sweetly tell the family that if everyone participates you will spring for donuts on the way home (that one never ceases to be an exceptional bargaining chip). And … nothing. Not a peep during the opening hymn. No interest whatsoever in the confiteor. The only thing holding their attention is the hairstyle of the woman in front of you.
So what NOW? Lectures? Dire consequences for not participating? Or do you just let it go, see it as a phase and think surely they'll eventually make the Mass their own?
My husband is the director of music for our Catholic school and has been a director of music and liturgy at other Catholic churches and he is constantly bombarded with this question. And his response?
"Make sure you and your spouse participate yourselves. Out loud. Every time. Especially the dads."
Duh. Just like everything else in life, if we fail to be the example to our children, there's nothing for them to emulate.
You may be saying, "Oh, but I do. But not too loudly because I don't want to bother anyone." Or "I would, but I have a terrible voice, I would embarrass everyone." Or "I'm afraid I will not do the responses or music correctly myself."
It doesn't matter. No one cares. And like I tell my students in their private voice lessons, "If someone is judging your musical acumen or performance at MASS they have far bigger things to worry about than you do."
It goes without saying but I will say it again: You must actually go to Mass to learn how to participate. In my years of being a professional church musician, I can tell you that the children and young adults who participate most fully are those whose parents participate. I can see it from the choir. Simply showing up does not cut it. Attending Mass often, especially more than once a week if at all possible, is most helpful — because it enables you and your children to become more comfortable with the liturgy. As my elementary school band teacher said, "Practice doesn't make you perfect but it sure makes you a lot better." The same goes for Mass participation. It doesn't just happen, it is learned and needs to be practiced.
In the words of St. John Chrysostom, "When you see the Lord immolated and lying upon the altar, and the priest bent over that sacrifice praying, and all the people empurpled by that precious blood, can you think that you are still among men and on earth? Or are you not lifted up to heaven?" (The Priesthood 3:4:177 [A.D. 387]). 
So instead of nagging your children to participate at Mass, lead by example. Mass is the source and summit of our faith. So why not participate?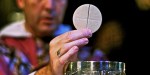 Read more:
How long is Jesus present in the Eucharist after we've received Communion?


---
LEARN MORE:
Pope Francis is dedicating his general audience addresses on Wednesdays to a step-by-step explanation of the Mass, with other reflections. Check out those he has given so far here: