In case it does cause cancer, try one of these remedies instead.
With Johnson & Johnson losing its third consecutive trial over customer claims that its talcum powder may cause ovarian cancer, we have to wonder: should we toss the brand-name talcum powder we have sitting in our bathroom? It's useful for so many things, but right now the fact that the company faces a whopping 1,700 lawsuits claiming that it flat-out ignored studies linking talcum powder use to modest increased risk for ovarian cancer doesn't inspire much confidence. However, it's worth pointing out that the American Cancer Society says the results in these studies have been mixed and that the studies themselves may be biased.
Still, if you're worried, it might be time to try some alternatives. Here are three things you can use instead of talcum powder to get the same soft, fresh, comfy feeling — without potentially compromising ovarian health or breaking the bank.
1. Cornstarch
You can use cornstarch (or cornstarch baby powder if you want something pre-formulated with aloe vera) the exact same way you use baby powder. It accomplishes all of the same effects without any of the known risks. As Mother Nature Network points out, cornstarch has the same consistency as talcum powder and it soaks up moisture equally well. Plus, you probably already have it in your kitchen. In fact, cornstarch is what the American Cancer Society recommend as a talcum powder alternative in a 1999 press release because the possible ovarian cancer link has been known for quite some time.
The press release quoted experts like Dr. Stephen Pennisi, a toxicologist and vice president of product safety at Combe Incorporated, which makes Vagisil Feminine Powder: "Since cornstarch is derived from corn and that's a food, our body has natural enzymes to break it down rather easily," he said, "whereas talc, which is a mineral and not normally found in the body, cannot be broken down by the body."
2. Baking soda
Doesn't it seem like you can use baking soda for everything? Dr. Josh Axe, a doctor of natural medicine and clinical nutritionist, says you can use baking soda for easing tummy pain, killing mold, treating urinary tract infections, and more. Well, now you can keep adding to that list, because, as Mother Nature Network mentions, it does everything talcum powder does, too. According to the book, The Soda Miracle: 101 Uses for Health, Home, Beauty, baking soda works especially well to deodorize your shoes, but it can also be used to get on tight gloves. Dr. Axe also recommends it for eliminating vaginal odor. And, yes, the money factor is a nice benefit, too: It's a relief that something so inexpensive is so versatile.
3. Tapioca starch
If you're a gluten-free baker or a fan of Paleo recipes, you know exactly what this is! Although you may not realize that tapioca starch and tapioca flour are simply different names for the same thing. Tapioca starch, which can be used as a talcum powder alternative, is a flour made from the root of the yucca or cassava plant. If you don't have it in your kitchen already, consider trying Bob's Red Mill Tapioca Flour, which you can buy online and find in many grocery stories. The downside of tapioca starch is that it's a little more costly compared to the aforementioned alternatives, but if you eat gluten-free already, it's probably not much of an added expense.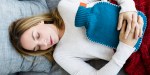 Read more:
7 Science-backed alternative remedies for cold and flu