Handful of attacks on churches being carried out by small groups, according to official.
The Vatican isn't making any changes to security plans for the pope's 21st international trip, which brings him to Chile and Peru, despite a handful of attacks on churches in Chile.
According to representatives of the Church in Chile, where the pope arrives January 15, tensions are high in the country regarding clergy sexual abuse.
Archbishop Ricardo Ezzati of Santiago acknowledged the crisis, but expressed his hopes that Francis' visit would reaffirm the faith of the people and encourage evangelization.
But arsonists scrawled "the only church that illuminates is one that burns" at the site of the sixth attack, at the church of St. Augustine in the metropolitan area of Santiago.
The fire was extinguished before it destroyed the whole building, but this attack comes after five previous ones between Friday and Saturday.
"[The attackers] seem to be small groups, with limited possibilities,"a Chilean government official told the radio program BioBioChile. "The pope won't be at any risk in his visit to Chile."
This confidence was echoed by the National Commission for the pope's visit. Javier Peralta, the executive director, said that the attacks "reflect that there are tensions and points that hopefully the [pope's] visit can help to eliminate."
Security forces are most concerned about parallel events that will take place at the same time as the pope's public meetings. For the pope's first Mass, for example, where 400,000 people are expected, there will be at the same time a "March of the Poor," planned for near the same park.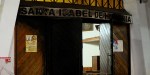 Read more:
Three churches are attacked in Chile in advance of Pope Francis' visit


The tensions surround, in part, Father Fernando Karadima, a well loved priest with a charismatic personality, who abused at least three young men as far back as the 1980s. It is claimed that credible reports made by his victims were reportedly ignored or quieted by members of the Church hierarchy, including Cardinal Francisco Errázuriz Ossa.
Pope Francis' decisions in 2015 to make Cardinal Errázuriz Ossa part of his advisory committee and to make Errazuriz' successor a cardinal were poorly received by many in Chile.
Pope Francis is likely to address the painful scars of sexual abuse when he meets privately with Chilean bishops on the evening of January 16. There are unconfirmed reports that he may also meet with sexual abuse survivors during this portion of the trip.
Pope Benedict XVI met with abuse survivors on numerous trips.