Here's why that common phrase undermines a child's success ...
Whether we're worried about a child getting hurt, or just sure they're about to make a mess or break a dish, we parents are saying "be careful!" way too often. Not that we don't have the duty to keep our children safe, or the right to ask them not to drop our nice china on the floor, but the phrase itself is unhelpful at best.
Petra Eperjesi of the Child and Nature Alliance of Canada points out how useless it is to overuse the phrase: "What do we even mean when we say 'Be careful!'? It can mean, 'I'm not sure what's over there, please wait for me to come have a closer look with you,' or it can mean 'slow down and watch where you're putting your feet' … Without the specific details, it can also be meaningless."
Eperjesi offers a list of alternatives. Do we really mean "please slow down," or "make sure you have enough space," or "stay focused"? Because even when the child is doing something dangerous, "Be careful" is too vague to help. All it manages to convey is the fact that we are worried about him, and that he's doing something wrong.
That's the other problem. Not only is this well meant, overused phrase unhelpful, it's actually undermining the foundation of trust that ought to exist between parent and child. Now obviously, trust shouldn't be indiscriminate, and it has to be earned. But ultimately, every relationship needs an element of trust, and for the same reason. If my husband or friend doesn't trust me to do what they know I'm capable of, I'll rightly feel that I'm not respected. Children need this respect just as much as adults.
Even for a young toddler, there are activities they're capable of doing independently, even if it's just going down stairs standing up, or mixing the cake batter for mom. When there are a lot of "be careful!"s thrown around, the message is clear — the parent is essentially saying, "I don't trust you to do the task properly." And maybe they can't do the task properly! In that case, they shouldn't be doing it. Or maybe they just need a few reminders. Then, being told to "be careful" isn't helpful; they just need to hear how they can improve.
Specificity doesn't just remind the child how to tackle a challenge appropriately, although that's essential. When a parent is willing to be more specific in their instructions, it also builds up a foundation of respect between parent and child, based in the trust that's built up between the two. When we can replace "be careful" with "Remember to use the banister," or "Keep the spoon nice and low in the batter so it doesn't splash," the child learns, but he also hears the all-important attitude underlying the words: "I know you have it in you to get this right, even if you need a little reminding."
It doesn't take much, but it's one of the many little things we can do to help our children develop a healthy sense of self-confidence.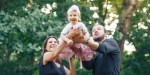 Read more:
5 Habits that parents of successful kids have in common