Researchers are learning that the process of forgiving someone greatly improves our health.
The benefits of forgiveness, now validated by the scientific world, include the reduction of chronic pain, cardiovascular diseases, violent behavior, depression, anxiety — and more hope. People who do not forgive suffer elevated blood pressure levels and often cardiac trouble, as well as other health problems.
Forgiveness is a process (or the result of a process) that involves a change in one's emotions and attitudes toward an aggressor. It leads us to no longer want to strike back or distance ourselves from the offender in spite of his actions, and it requires us to let go of negative emotions toward him.
Forgiveness should not be confused with excusing, condoning, absolving, or forgetting:
Excusing means making the decision not to hold a person or group responsible for their action.
Condoning means that we don't see the action as negative or inappropriate, and that we don't consider it necessary to forgive the perpetrator.
Pardoning means absolving the person of the crimes committed, and this can be done only by a social representative.
Forgetting means eliminating the offense from our thoughts.
Forgiving brings major benefits to the victims of an offense:
An improvement in physical and mental health.
A restoration of the sense of personal empowerment.
A clear and healthy possibility of reconciliation between the aggressor and the victim.
A positive change in the affective structure.
Four key aspects to improve your willingness to forgive and to learn to heal the wounds of the past:
Forgiveness is for the one who gives it, not for the one who receives it.
Forgive, because in other circumstances, the perpetrator could just as easily have been us.
Forgiveness takes time. Forgiveness doesn't have to make the pain go away immediately.
Forgiveness is not a gift to the guilty one, but something that we do inside our own heart. It doesn't necessarily mean reconciliation. Forgiveness is a decision, apart from the person who is being forgiven; it means we are letting go of the pain.
Being able to forgive is a gift to ourselves. It not only benefits the person being forgiven, but also the one who forgives.
When we don't forgive, we (the victim) remain chained to the person who hurt us, and as long as we withhold that forgiveness, we will not be able to get out from under the power that the aggressor still has over us.
When we are not able to forgive, we cause a flow of negative emotions that hinder us from undertaking more positive, constructive plans.
Forgiveness is a decision to let the pain go. It doesn't mean letting the person continue hurting us. For reconciliation to happen, the aggressor would need to ask pardon and firmly promise never to hurt the victim again. Forgiveness, by contrast, doesn't require the guilty person's repentance at all.
We can forgive the dead, but we can't reconcile with them. We can forgive someone who hurt us and abused us, but we don't have to let them into our life to do it all over again. Of course, forgiving our trespassers while they are still alive is a sign of great human maturity and is always a gift that we give to others and to ourselves. Let's not forget that everyone has the right to a second chance.
Read more:
With 'Borrowed Time' Pixar animators explore themes of guilt, forgiveness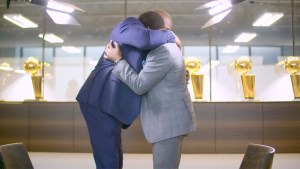 Read more:
Christmas forgiveness: Magic Johnson and Isiah Thomas reconcile after 26 years of bitterness
This article was originally published in the Spanish edition of Aleteia and has been translated and/or adapted here for English speaking readers.