Even healthy, active people are succumbing to the H3N2 strain, but here's what the experts are saying.
There's no two ways about it: this year's flu strain is a little scarier than those in recent years past. This season's predominant strain (H3N2) is known for being one of the nastiest strains of influenza – prone to mutations, and with particularly severe symptoms – and it's certainly living up to its reputation. Every single state in the continental US is reporting widespread outbreak of the flu, and each day brings another tragic story of death from the flu or flu-related complications.
The flu is typically the most dangerous for the very young or the old, but among the most recent stories of deaths caused by this season's influenza strain are two that are striking for the unusual profile of its victims: a healthy, marathon-running 40-year-old woman, and an athletic, hockey-playing 10-year-old-boy. These recent deaths are concerning, and have people asking whether it's too late to get the flu vaccine, and whether there are other ways they can protect themselves and their families from the flu.
Unfortunately, one of the problems is that this year's flu vaccine is particularly ineffective at preventing the flu, due in part to H3N2's penchant for mutating. Efficacy estimates of this season's vaccine's range from as little as 10 percent to as much as 39 percent (if the efficacy of last year's vaccine is predictive of this year's vaccine's effectiveness). For a little perspective, the efficacy range for the flu shot in a year with high-accuracy vaccines is 40 to 60 percent, according to the CDC website. Despite the shot's low efficacy (and the fact that it can take two weeks for the shot's immunity to take effect) experts are still urging people to get their flu shot. They state that despite the vaccine's lower effectiveness for preventing the flu, it may still help reduce symptom severity if one does come down with the flu – and that the flu season can sometimes last until May.
Fortunately, there is a glimmer of hope on the horizon. Experts at the CDC are hopeful that the flu may have reached an early peak; because this current flu season began earlier, it's possible it may also end earlier, too. It's still important to stay vigilant, however, as it's still too early in the season to predict what the final outcomes of the season will be. There's still plenty of time for the viruses to continue mutating, and with the country's cold-spell keeping people locked inside and in close quarters, virus spread can be hard to contain.
If you do choose to forego the vaccine (and even if you did get the shot or are planning to do so), common-sense tips like practicing vigilant handwashing, keeping often-used surfaces (like doorknobs, sink faucets, etc.) clean and sanitized, wiping down shopping cart handles, and foregoing handshaking (yes, even in Mass!), are all good practices. Trying to get a good amount of sleep per night, keeping up with regular exercise, and eating a healthy diet with vitamin- and mineral-rich fruits, vegetables, nuts, and seeds are always good practices, but especially so during flu season.
Personally, I'll be keeping my little one in his carrier more often while we're out-and-about to prevent him from gnawing on grocery-cart handles, and to discourage others from touching him. I'm also adding more vitamin C and zinc to our family's diet (with both supplements and foods), trying to practice good self-care in the form of stress-reducing stretches and exercise, and getting myself and my son out in the fresh air and sunshine as much as the weather permits. Also, given my 10-month-old's status as a "high risk" patient, I'm staying alert for any signs that he may have the flu, and I'll be contacting my doctor right away should I suspect anything.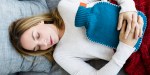 Read more:
7 Science-backed alternative remedies for cold and flu