It really is possible to take an eraser and wipe the slate clean.
What can God do in your life with one Bible verse a day?
Subscribe to Aleteia's new service and bring Scripture into your morning:
Just one verse each day.
Click to bring God's word to your inbox
I'm pretty good at lying to myself. It's one of the things I do best. When I consider my past, I'm like an artist re-touching my actions and behavior until it gleams like a flawless masterpiece. Every hair in place, every action perfectly justifiable, every mistake easily explained away or blamed on someone else. In my mind, I basically have a professional public relations team working overtime making my entire past look like a constant parade of triumph. I am virtuous. I am handsome. I never do anything wrong.
Then reality sets in. It's funny how the lies we tell ourselves, no matter how well constructed, always have a crack in the veneer and the truth shines through. We can muddle by for a while pretending it doesn't exist, but in our hearts we know that, maybe, just maybe, we have in the past made some mistakes? I have said and done many things of which I'm not proud. I'd give examples but I haven't made it yet to St. Augustine levels of public accountability. Even so, I cannot fool myself and those lies I rehearse in my mind don't do anything to assuage the shame and guilt of my mistakes. For each of us, our buried falsehoods lurk in our subconscious like poison, influencing our present actions in ways we don't fully understand.
St. Francis de Sales has the solution. In 1609, he published a timeless book called Introduction to the Devout Life, which contains a treasure trove of practical advice and reflection about embracing the whole person and living a spiritually healthy, happy life. Chapter 19 is entitled "How to make a general confession," and it addresses how to deal with shame that lingers from the past.
Past mistakes, he says, are like a "scorpion who stings us." But the best remedy for his bite is to distill the poison by directly confronting our hidden shame to fully explore and acknowledge all of our actions. Taking ownership of our lives, both the good and the bad, is the first step to healing. What's most important is that we are honest about when we've made mistakes and don't try to justify them. Honesty and humility are absolute requirements. St. Francis says that, if we make an accounting of our past, it turns our shame into an honor because true sorrow is so lovely that it effaces the ugliness of the past. It's like taking an eraser and wiping the slate clean. It's the first step in intentionally choosing to not only move on the from the past but to live a good life.
So, what are some practical tips for reviewing your past and making a general confession?
First, take some time alone and consider your entire life.
Break it up by decade or the stage of life you were in as an aid to the memory. For instance, ask yourself what you were like in high school and in college. How were you as a young adult or as a new parent? Did you have a rebellious phase that you aren't proud of now? Make a list of every single wrong action or bad habit that you can bring to mind. For some of these, if you're like me, you'll need to roll it up into larger statements like, "When I was in high school I was terrible to my parents." Summarize if need be, but don't leave anything out.
Second, find a confessor or trusted confidant.
For those who have the sacrament of confession available in their religious tradition, I would recommend a priest. But for those who don't, sitting down with a pastor, trained spiritual director, or even somebody you deeply trust is a good idea. Make time to sit down together so you can recite your list. St. Francis says, "Tell everything simply and with straightforwardness, and thoroughly satisfy your conscience in doing so." It is important to not be embarrassed and skip this step, because we will never fully own our actions and make peace with our mistakes if we don't say them out loud to another person. In order to remove the shame, the humility of admitting everything is necessary.
Third, listen.
Listen to your trusted confidant respond to what you've admitted. Sometimes other people recognize patterns of behavior of which we are unaware, and some interesting insights may result. It's also helpful simply to experience the reaction of another person. Often, what I think is a unique, horrible sin that only I could possibly be depraved enough to commit turns out to be quite common. When my confessor doesn't run away in horror at what I've admitted it is greatly comforting to know I'm not alone in my struggles.
Also, listen to anything that God or your own conscience might say to you when you've said everything you need to say and your mind is clear. If nothing else, what you will hear is the sound of freedom, because when we're honest and true to ourselves it's like a burden has been lifted and we are set free.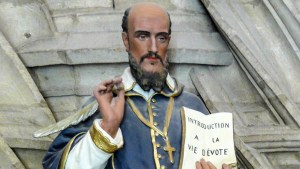 Read more:
Here's why you shouldn't fear the future, according to Francis de Sales