St. Alphonsa endured great suffering to be united with her one true love, Jesus.
Known to her family as Annakutty ("little Anna"), St. Alphonsa was born in Kudamalur, India in 1910. Annakutty's entire life was marked by great suffering. Her mother died shortly after her birth and was initially raised by her grandparents. She was taught early on the Christian faith and could lead the evening prayers of the family at age five.
The most pivotal day in her early life was the reception of her First Communion. Annakutty said afterwards, "Do you know why I am so particularly happy today? It is because I have Jesus in my heart!" Reflecting back on her childhood she later wrote to her spiritual director, "Already from the age of seven I was no longer mine. I was totally dedicated to my divine Spouse."
As the years passed her love for God increased and she developed a friendship with a local Carmelite community. Annakutty spent long hours in prayer and was increasingly interested in the religious life.
However, her family did not share the same sentiment.
Annakutty was from a wealthy family and her adoptive mother (her aunt) hoped that she would marry into another respected family. She was destined to be a housewife and live a life of luxury. This did not satisfy her heart, and she knew that God was calling her to the religious life. She wrote about her struggles, "My marriage was arranged when I was 13 years old. What had I to do to avoid it?"
Soon afterwards her foot was burned in a heap of embers and according to local biographies, it was a self-inflicted act in hopes that any bodily disfigurement would dissuade her suitors.
Persevering in her vocation, she entered a Franciscan Clarist Congregation in 1927 and in 1928 took the name Alphonsa of the Immaculate Conception in honor of St. Alphonsus Liguori. It was a joyful time in her life, but included more suffering as well. She wrote in her diary, "No matter what my sufferings may be, I will never complain and if I have to undergo any humiliation, I will seek refuge in the Sacred Heart of Jesus … I feel that the Lord has destined me to be an oblation, a sacrifice of suffering … I consider a day in which I have not suffered as a day lost to me."
Throughout her short time in religious life Alphonsa was afflicted with numerous types of illnesses, ultimately suffering from gastroenteritis and liver problems that made her vomit up to 40 times a day.
It was difficult, but she offered her life to God completely and died with a smile on her lips at the age of 35 in 1946. She was beatified by St. John Paul II in 1986 and canonized by Pope Benedict XVI in 2008. Pope Benedict said in his homily about her, "She came to love suffering because she loved the suffering Christ. She learned to love the Cross through her love of the crucified Lord." Countless miracles have been attributed to her intercession since her death and her tomb is a popular pilgrimage site in India.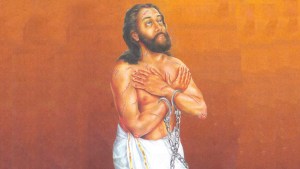 Read more:
Meet Blessed Devasahayam Pillai, the first Indian martyr