If you thought your blouse was beyond saving, this is for you!
The parties are over and … surprise! There's a mascara stain on your sheets and red lipstick smudged on your blouse. While it's true that some new cleaning products may seem magical, sometimes we don't buy them or they cost too much money. So why not use products we already have and that work just as well or even better?
1. Dish soap
This product is especially useful with oil-based makeup products, like lipsticks, a lot of eyeliners, and mascara. If the stain is not yet dry, first remove any excess with paper towel (without rubbing). Then apply a little cold water with the help of a spoon.
Next, apply a little liquid soap (the more it claims to "cut grease," the better!). Using your index finger, distribute the product all over the stain. Rub with an old toothbrush or a small paper towel (depending on the type of fabric or the strength of the stain) and let it sit for a few minutes until it dries. Then you can put it in the washing machine and voila! (Sometimes you have to repeat this process two or three times.)
2. Shaving gel
This trick went viral a few years ago thanks to YouTuber Kalei Lagunero, and it's an easy and excellent way to remove foundation stains. Just apply a little bit of shaving gel directly on the stain, wait a little and rub it for a few minutes (be patient), using a bit of pressure (that old toothbrush may come in handy again).
Rinse with cold water (only putting the water on the stain, without submerging the entire piece of clothing). Now repeat the same process, but this time, remove the shaving cream with hot water. Some people have to repeat the process twice, but it usually works (even when the stain is a few days old).
3. Baking soda and hairspray
This is another way to remove oil-based makeup (lipsticks, creamy foundations, etc.). Put a little bit of baking soda on the stain and scrub it with a toothbrush. Repeat two or three times until you see the stain "dry."
Then, apply a little bit of hairspray directly on the stain and scrub with a dishwashing sponge (the hairspray will make most of the makeup stuck to the cloth rise to the surface). You won't see the stain disappear but it will fade lightly. Finally, apply a bit of stain remover in spray form, let it sit for a few hours, and then put your clothing in the washer as usual.
4. Vinegar
For stains caused by powders, apply a bit of water with vinegar, using a cloth directly on the stain but without rubbing. Let it sit for a few minutes and then wash as usual.
5. Alcohol and nail polish remover
This is my least favorite solution because it can damage certain types of fabrics, but it can be very useful, particularly for lipstick products and nail polish on cotton flannels. First turn the piece over (to the side without the stain) and place a bit of alcohol with a little cloth (don't rub it, just dab it). Do the same with the nail polish remover. Then turn the piece over and repeat the process. Throw the piece into the wash and voila!
And the best of all these tricks is that they're not just useful for after the parties, but also for when we're trying on clothes. Let's be honest, every so often we get makeup on them out of clumsiness or because we're in a hurry.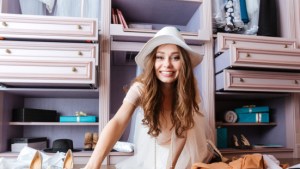 Read more:
5 closet cleaning and organizing tips just in time for spring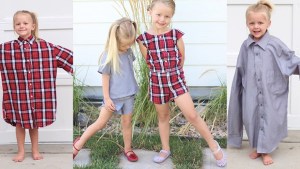 Read more:
How to use old clothes to DIY new outfits (and help the environment!)
This article was originally published in the Spanish edition of Aleteia and has been translated and/or adapted here for English speaking readers.