9-year-old George wanted his classmates to understand his autism, and now the video has gone viral.
"I have fun dancing, I have fun making music, I love to draw and make art, and — wait for it — I have this thing called autism." This is how George introduced himself in a video for his 4th-grade class. But now the video, originally intended as class assignment, has gone viral.
"The audience was not meant to be a million people," his mother, Lisa Jolley, told ABC. "The audience was 21 fourth graders so they can see when he's waiting in line, he can't stand still. When we're at recess, he does this."
The video takes an honest "no non-sense" approach, outlining what George's autism means to him and why he sometimes acts differently than the other kids. At the end of the video, George encourages his classmates not to be shy in asking him about it, saying, "Don't be afraid to come ask me about it. No, seriously, it's okay — just come ask me about it."
Lisa says she doesn't see why it needs to be any more complicated than that. "Why not say, 'Okay, here's the deal. I have this thing, and this is why I don't behave the way you do. Does anyone have any questions?'"
Now, their honesty is helping children with autism know that they're not alone and encouraging everyone to stop being afraid and start asking questions.
You can watch George's video above.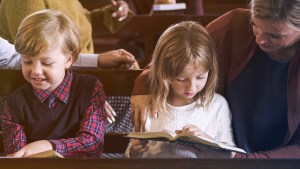 Read more:
A great visual tool that helps children with autism during Mass