When things seem so dire, what is expected of us? What must we take up? What must we let go of?
Sorry to bring this up, he says, to his staid and somber audience, who weren't used to hearing such things said out loud. He apologizes for using "the crude monosyllable." You can imagine those sitting in front of him shuffling a little in their seats.
C.S. Lewis had just said the word "Hell." He used it to explain to the people gathered that evening in autumn 1939, at the Anglican church of St. Mary the Virgin in Oxford, what they should do with their lives. (For what he would tell you to read, see this.)
A very good question
He was a layman, but Oxford University faculty sometimes preached at special services. Titled "Learning in War Time," the sermon appears in the small book, which too few know about, The Weight of Glory. (If you want to read a description of our relation to each other that will bring you to tears, read the last paragraph of the title chapter.)
You'd think the kind of people gathered in the university church would know what they should do with their lives. But remember the time. England had just declared war on Germany. Germany wasn't just a hostile power, it was a wicked power — how wicked the English didn't yet know. Europe faced the possible end of its civilization.
Why, Lewis asks, should anyone keep studying when the world's in crisis? Why sit in comfort with your books when you or your friends may go to war at any moment and maybe die? When your country itself might die? How can you justify studying ancient Greek grammar when you could be working on the assembly making fighter planes or tanks? Then he adds the twist: How can we indulge such pleasures when men and women we know might go to Hell?
He asked his comfortable academic peers a very good question. Here's the thing: We must answer the same question. Most of us live in some comfort, able to do much of what we want to do, while the world around us lives in great need.
Why keep reading that book on a saint when people suffer in the nearest hospital without anyone to visit them? How can you host that cookout when the soup kitchen downtown needs volunteers? Do you really need to go to that church conference when the money would feed an African village for a week? Should we enjoy a movie when we could be telling people about Jesus?
You think of Jesus's words, "What you did for the least of these, you did for me." Or, if you're as prone to feeling guilty as I am, his other words, "What you didn't do for the least of these, you didn't do for me." You look at the lives of the saints, who spent themselves in unending service to others. You think of the Cross. "When Christ calls a man, he bids him come and die," said the Lutheran theologian Dietrich Bonhoeffer. We all fall short.
What Lewis says
How does Lewis answer his own question? He doesn't answer it directly, but I think he's saying: You must serve God with all your heart and soul and mind, but part of serving God as a human being is living a normal human life. You must take up your cross and follow Jesus, but you take up that cross in and through that life.
First, he says, keep doing what you have been called to do, remembering that you're part of a body of people who do different things. We are "differentiated members," he says, "each with his own vocation." We serve God best through our vocation, not by taking up someone else's. By doing what we're supposed to do, "we are either advancing to the vision of God ourselves or indirectly helping others to do so." How God uses our work we probably can't see and anyway it's up to Him.
Second, you'll do it anyway, so you should do it well. Speaking to his fellow scholars, he says: "If you don't read good books, you will read bad ones. If you don't go on thinking rationally, you will think irrationally. If you reject aesthetic satisfactions you will fall into sensual satisfactions."
That said, you do it for others. "Good philosophy must exist," for example, "if for no other reason, because bad philosophy needs to be answered." The Germans may be bombing you, but someone will be preaching poisonous nonsense and hurting human souls. Someone needs to know what to say in response. That someone needs to be studying when others are on the assembly line making fighter planes or tanks.
Third, God created and honors normal human life as long as we do what we do for Him. That's the crucial thing that separates just enjoying ourselves from enjoying ourselves as God wants us to do. Lewis invokes St. Paul: "St. Paul tells people to get on with their lives. He even assumes that Christians may go to dinner parties. … Our Lord attends a wedding and provides miraculous wine."
He quotes the Apostle's rule that whatever we eat or drink or do, we do it to glory of God. "Christianity does not simply replace our natural life and substitute a new one: it is rather a new organization which exploits, to its own supernatural ends, these natural materials."
We can always push ourselves
Lewis says a lot more in the sermon. It must have taken at least 30 minutes to read, maybe 40. I would add one thing to what he says to his fellow scholars. As you can, do go to the hospital, the soup kitchen, give up something for the African village, tell people about Jesus. Lewis isn't saying just brighten the corner where you are.
But do brighten it. We can almost always push ourselves a little beyond what we do at the moment. A cookout, for example, can be held to the glory of God. You bring people together in fellowship. Make it a bigger fellowship, by inviting the odd and isolated and awkward. Don't tightly "curate" the guest list. You glorify God by helping his lonely children find friends.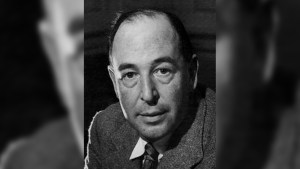 Read more:
C.S. Lewis tells you what to read