If you were discouraged from your artistic leanings when you were younger, this is for you!
For those of us who struggle to see ourselves as creative, there's often a lot of shame around creativity in our life narrative. We've been told that creativity isn't going to pay the bills, or that creating art is just self indulgence. Perhaps a teacher once told you to focus on math and science because you weren't creative enough when it came to writing and art. Maybe you struggle with creativity because it was discouraged when you were a child. Or maybe a parent or loved one mentioned that you aren't any good at drawing, writing poetry, or dancing. You have art scars to heal from.
What are art scars and why should we heal work to heal them? "One reason that I'm confident that shame exists in schools is simply because 85 percent of the men and women we interviewed for the shame research could recall a school incident from their childhood that was so shaming that it changed how they thought of themselves as learners," Brene Brown writes in her book, Daring Greatly. "What makes this even more haunting is that approximately half of those recollections were what I refer to as creativity scars. The research participants could point to a specific incident where they were told or shown that they weren't good writers, artists, musicians, dancers, or something creative."
These art scars, present even in adulthood long after we graduate from school, help explain why shame is so powerful when it comes to creativity and innovation in our world today.
Everyone needs to experience creativity in some shape or form. "I used to believe that there were creative people and there were non-creative people," Brene writes. "But now I absolutely understand personally and professionally from the data that there is no such thing as non-creative people. There are just people who use their creativity and people who don't." You're not called just to consume creative works. You're also called to be creative and contribute to the beauty of this world.
What happens when you don't take time to heal from your art scars and tap into your creativity? Nothing good, unfortunately. "Unused creativity isn't benign," Brene explains. "It metastasizes into resentment, grief and heartbreak. People sit on their creativity and deny it and it festers." If you're realizing that you need to heal from art scares and embrace creativity in your adult life, here are five practical tips from Brene's research.
Know that you're not defined by your scars
It can be easy to get weighed down from people's harsh criticisms about something you created. "We must care for and nurture the stories we tell ourselves about our creativity and ability," Brene Brown writes on her blog. "Just because we didn't measure up to some standard of achievement doesn't mean that we don't possess gifts and talents that only we can bring to the world. Just because someone failed to see the value in what we can create or achieve doesn't change its worth or ours."
Don't be afraid to dig into the story of your art scars in order to heal from them. What did you love to do as a child? Do you have a memory that involves being shamed about something you created as a child? What false beliefs were established about your creativity during that moment of shame?
Find inspiration in boredom
We live in a world where there is no lack of stimulation. If you're bored for a couple of minutes at the stop sign, you may be tempted to pull out your cellphone and do a quick e-mail check. During the minutes before a meeting starts at work, the siren call of your cellphone can lure you into browsing social media just to pass time. But instead of plugging into your phone and filling a few minutes of spare time, use that time to be bored. "The life of the creative man is lead, directed and controlled by boredom," Susan Sontag wrote. Look out of your car window and notice the colors of the trees, or the people walking on the sidewalk. Revel in boredom and see what creativity is sparked in moments of absolutely unstructured time.
Play
People who have healed from their art scars and embrace their creativity are described as whole-hearted people in Brene Brown's research. These people are able to create, relax, and play. If you're not sure what play means, don't worry, neither was Brene at first. "Researcher Stuart Brown, MD, describes play as time spent without purpose. To me this sounds like the definition of an anxiety attack," Brene writes. "I feel behind if I'm not using every last moment to be productive, whether that means working, cleaning the house or taking my son to baseball practice. But I can't ignore what the research (mine and others') tells us: Play — doing things just because they're fun and not because they'll help achieve a goal — is vital to human development."
Write a creative bucket list
When I look at my creative bucket list, it seems like my dreams are all over the place. I want to knit in the winter in front of a fireplace, and plant a salsa garden in the summer. I want to make creme brulee for my friends with a blowtorch in the kitchen, and write the book that I know I'm able to create. But if I don't get those ideas out of my mind and onto a piece of paper, they'll stay as dreams.
"Create a play list," Brene recommends. "Write down three activities you could do for hours on end. Mine are reading, editing photos on my computer and playing Ping-Pong with my family. Now carve out time on your calendar. Even when I'm busiest, I schedule unstructured time. It's important to protect playtime the way you protect work, church or PTA meetings. Play well with others. When my husband and kids made their own play lists, we realized that our usual vacations, which involved sightseeing, weren't really anyone's idea of play. So now we go places where we can hike, swim and play cards — things that make us all our most silly, creative and free-spirited selves."
Journal
How many of us have journals that sit on our bookshelves, empty? We're afraid that if we write in them, they won't be beautiful. We'll mess them up, somehow. But if you struggle with an art scar that centers on someone not appreciating your art when you showed it to them, journaling is a great way to begin to heal from that scar. Because journaling is meant to be a private creative process, there is no obligation to show anyone what your work is.
So pick up a journal and fill the blank pages with anything. Maybe you've always wanted to write a poem, or just doodle. Use your journal to express your creativity and grow from what you find on the page after you take a step back and look at what you've created. Don't be intimidated by the empty pages, or the fear that you may mess up and not create something perfect. Without any expectations for perfection, dive in and see what beauty you can create with a pencil, pen, or paintbrush.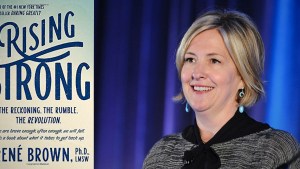 Read more:
Brené Brown's 'Rising Strong': Forging wisdom from failure