This isn't just your same old "follow your dreams."
Her students say she makes it looks easy, but then again, Madame Poole has been practicing ballet for seven decades. "Apparently people think I'm unusual," she laughs. It's no wonder. Even she expected her career to be over in her 20s, but at 77 years old, she's still going strong.
Having traveled the world performing, now Madame Poole dedicates her skill to teaching young aspirants. "I think ballet teaches more than just dance," she says. "It teaches them respect for each other."
Madame Poole is living proof that doing what you love is not just a message for the young but for everyone. Thanks to the encouragement of her late husband, she has continued doing what she loves long after anyone thought she could, and she continues to enrich others' lives with her craft.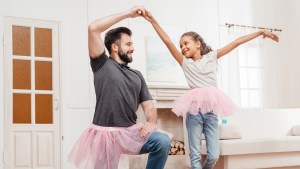 Read more:
What happens when middle-aged dads attempt ballet with their daughters? (VIDEO)