A wide variety of play is vital to both boys' and girls' emotional development.
One of my favorite things to do in the afternoons is abandon the kitchen and dinner prep and tiptoe down the hallway. I pause outside the door of my daughters' room, where my 9- and 5-year-old are often holed up playing with an assortment of toys.
They use everything from Legos and matchbox cars to stuffed animals and American Girl dolls in their afternoon games of imagination. There's always a mom and a dad, a baby and sometimes a kid, but there are also teachers and friends and firefighters and more often than not, Kylo Ren. Their games are complex and mostly involve figuring out whose role is what and how many superpowers each one is allowed, but it's not unusual to hear staged arguments and profound apologies that mimic real-life interactions.
I love listening to their games because they're not just playing, they're working. Working through life, their emotions, their experiences, and how they relate to each other and the world around them. Developing emotional intelligence in this way is actually one of the profound benefits of playing with dolls, according to Fatherly:
According to research, "pretend play," the behavioral category social scientists assign interacting with dolls, builds safe environments in which children can experiment with seeing the world from other perspectives, learning empathy and interaction strategies in an environment where they can fail without consequence. Jerome Singer, professor emeritus of psychology at the Yale School of Medicine, explains that children have a fundamental need to shrink the large, loud world down to a manageable size so they can test their ideas in everyday situations. When children use toys to create realistic scenarios or fill in for friends, they have both sides of every conversation, learning about communication, problem solving, and empathy along the way.
Although this particular article was sponsored by Barbie, the research that accompanies it doesn't limit the profound power of pretend play just to Barbies — or even to dolls generally. Instead, the study referenced examines pretend play ranging from solitary play with stuffed animals to cooperative play where children reenact stories or work together to create their own dramatic narratives. The medium of play seems to matter far less than its creative and imaginative scope — it's the role-playing and problem-solving aspect of play that helps kids develop that crucial EQ (emotional intelligence), which is every bit as vital as IQ.
Still, seeing my 5- and 9-year-old take turns cradling a sick baby doll warms my heart a little more than seeing them pretend to be the sick baby. It focuses their attention on someone outside themselves and gives them a channel to practice empathy and gentleness.
It's particularly endearing to see the way my 5-year-old son tenderly cradles the heads of inanimate baby dolls. I hope he has many more years to play with dolls without the intrusion of harsh stereotypes and callous judgments, and I hope those years help him develop into a man who is strong enough to be gentle and secure enough to be tender. I'll take well-developed EQ over IQ any day.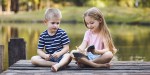 Read more:
Boys and girls may be different, but they're still individuals