He hopes the craft will live on in the community.
One of only 22 monks living in Prince of Peace Abbey, Oceanside, California, Brother Blaise has been the abbey's beekeeper for over 42 years. A labor of love and more, beekeeping is more than a job or hobby; it's a source of spiritual contemplation.
During his 30 years teaching scripture classes for kids, he often used his bees as an explanation for the sacrifice of Christ and the growth of His Church. Surprised? It's actually quite straightforward! When a drone fertilizes a queen bee, he dies during the mating process. But once the queen bee is fertilized, she can produce almost a million eggs within her lifetime. Because of his sacrifice, his "bride" can bring life to many more.
Though Brother Blaise thought he had left beekeeping behind when he entered the abbey, rumors about his skills spread and soon the abbey received almost donated 100 hives from widows looking to give away their husbands' bees.
"All of a sudden people started giving me their hives and I became the bee man," he said.
Brother Blaise was diagnosed with cancer last year, but he hopes to pass on his enthusiasm for beekeeping to his students. Every Sunday, he invites kids to help him care for the bees and extract honey.
Jars of the honey are sold by the abbey, and, though the brothers say they don't make a lot of money from it, Fr. Paul Farrelly says, "[The bees] really love him and they put a lot of love in the honey that they produce for him, and you can taste it."
Hear more from Br. Blaise in the video above.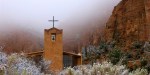 Read more:
Benedictines in the desert: A life of prayer in New Mexico