Iconographer Joseph Malham brings an icon-writing retreat/workshop to you at home!
Have you ever wanted to write an icon of your favorite saint, and think, "well, but I can't do that"? Ave Maria Press, which publishes Joseph Malham's Drawing Closer to Christ: A Self-Guided Icon Retreat, offers some encouragement, saying, "You don't need the talent of a classically trained artist—or even the ability to draw a stick figure—to create a stunning icon."
It's actually true. I personally can attest to it. I don't think of myself as someone who can "draw a crooked stick" but last summer, while attending an icon-writing workshop, I was able to prayerfully — often tearfully — produce this icon of St. Michael the Archangel, written by my own hand: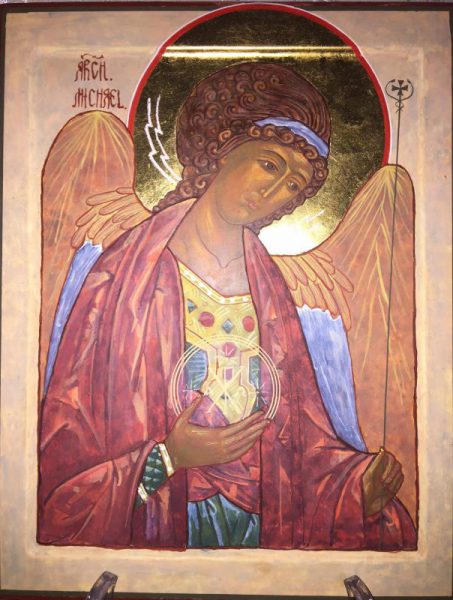 Yes, it's clearly mistake-laden, and an obvious "first try" but I do love it, and I learned a great deal about myself, and about prayer — not all of it easy to take in — while working on it. Writing the icon was a real "encounter" experience for me. I can't wait for next summer, and the chance to try another.
Not everyone has such retreat/worshops available to them, and that is why Drawing Closer to Christ is so valuable. In this book, Malham invites you to put your fears and sense of artistic inadequacy aside in order to have an encounter of your own with icons.
Using the ancient icon Christ Pantocrator as your pattern, you will learn how to enter into the process of tracing the icon into the wood, applying gold leafing to the halo around Christ's head, and blending the paint to create beautiful colors that radiate holiness. Malham provides a list of supplies needed for each stage and step-by-step directions with detailed photographs. The first seven days of the retreat follow the rhythm of the Genesis account of creation. On the eight day, you'll learn that while the finished icon represents the personality of the artist, it is still Christ. You will be transformed by your sacred image.
Amen. It's true. Joseph Malham was kind enough to answer our "Fast Take" questions about his book.
What inspired you to do this?
Joseph Malham: After 20 years as an iconographer and artist in residence, I felt called to pass on my experience and insights to others who seek to deepen their prayer through iconography.
Do you have a particular story or anecdote (or piece of advice) that you share in this book because it most personally resonated with you?
The anecdote I begin with, about fearing to go through "The Black Door" — the unknown — and not realizing that what we find behind it is freedom. I relate that anecdote to address people's fear and hesitation when beginning an icon class, but in the final analysis it relates to so much of what we do — or do not do — in our entire life.
You're an experienced iconographer, but did writing this book teach you anything?
For more than 20 years I have been painting icons alone or teaching the method to people in person. Writing the book for people who are not actually present forced me to clearly think about each step in the process as well as the overarching spiritual truths about iconography. This not only helped me to articulate the steps for others but gave me more insight and revelations along the way
If there is one person you want to reach with this book, who would that be?
The person young or old who is approaching iconography from an artistic, aesthetic, or historical perspective, and after going on a journey with the Word as Image has a transformative spiritual experience.
What is the ideal beverage to have in hand while reading your book?
Herbal tea. There is something mystical about it in that it has a calming, contemplative, and focusing effect on the soul.