A complete list of the traditional authors.
While the New Testament is more straightforward about the human authors who penned the various books, the Old Testament is a bit more mysterious.
The Old Testament is the heritage of the Jewish people and their traditions surrounding the human authorship of it are not frequently talked about in Christian circles. This is partly due to the constant debate among scripture scholars regarding biblical authorship. Some scholars agree with the various traditions, while many more point to historical authors who will never be known to humanity on this earth.
Whatever the case may be, the Church affirms, "God is the author of Sacred Scripture because he inspired its human authors; he acts in them and by means of them. He thus gives assurance that their writings teach without error his saving truth" (CCC 136).
We may not know for certain who wrote the Old Testament, but we shouldn't dismiss the traditions that have been passed down through the centuries. The traditions are important and help us to understand the cultural context of each book in the Bible.
Here is a complete list of the traditional authors of the Old Testament, who may have had a hand in some way with recording the various events of salvation history.
Moses
Genesis
Exodus
Leviticus
Numbers
Deuteronomy
Joshua
Joshua
Samuel
Judges
Ruth
1 Samuel (with Gad & Nathan)
2 Samuel (Gad & Nathan)
Jeremiah
1 Kings
2 Kings
Ezra
1 Chronicles
2 Chronicles
Ezra
Nehemiah
Mordecai
Esther
Moses
Job
David
Psalms
Solomon
Proverbs
Ecclesiastes
Song of Solomon
Sirach (or Ben Sira)
Sirach
Isaiah
Isaiah
Jeremiah
Jeremiah
Lamentations
Prophetic books (self-ascribed authorship)
Baruch
Ezekiel
Daniel
Hosea
Joel
Amos
Obadiah
Jonah
Micah
Nahum
Habakkuk
Zephaniah
Haggai
Zechariah
Malachi
Tobit
Tobit
Unknown Author
Wisdom (sometimes this book is ascribed to Solomon)
Judith
1 and 2 Maccabees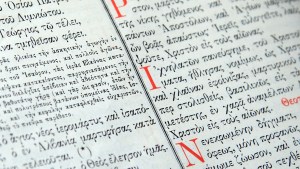 Read more:
Where did the Bible come from?