Tempted to find out your baby's gender? Here are some great reasons to have a little patience.
On announcing a pregnancy, we're generally greeted with two questions: "When's the due date?" and "Are you having a boy or a girl?" If a couple replies that they don't want to know their baby's gender until the birth, they are often met with astonishment and a whole new set of questions: "What will you do about the baby's clothes, and decorating the nursery?" or "How will you be able to resist not asking?"
So, having spoken with a few expectant parents, we've come up with a few reasons why you might want to keep that secret safe, right up until your little cherub arrives. Even though it is of practical use to know in advance for purposes of organization, buying baby clothes, and choosing a name (it's pretty tricky agreeing on one), there are also a few important reasons to wait until the child is born to find out what life has in store.
1. The surprise effect
A child is a gift from God. For some parents, finding out the sex of their baby in advance is like unwrapping a gift months before their birthday! Also, our existence is punctuated with beautiful surprises, and this is one that life is offering us. What is more beautiful than a new life, and the excitement of finally discovering if it's a boy or a girl, after waiting for so many months?
2. Avoiding disappointment

Indeed, ultrasounds are not infallible. It's possible for your obstetrician or doctor to make a mistake, which could be quite difficult and disappointing to handle once the baby is born, as you've already envisioned your future lives with a child of the wrong sex. If you haven't been told either way beforehand, you'll have fewer expectations, even if you have a few hopes; and you don't risk buying a multitude of items for a girl when it's actually a boy on the way.
3. The mystery effect

As much for you as for your close friends and family, there's something quite exciting about the suspense of being kept in the dark. And keeping everybody guessing is also good fun; for example, people looking at your blossoming stomach may convince themselves — and maybe you — that it is definitely a boy-shaped bump, but then — lo and behold — out pops a little girl! In the run-up to the birth, you'll also avoid getting stereotypical presents; instead, people will give more neutral options for baby clothes, which could be a good thing in a society where we're quickly "put in boxes."
4. Work on your patience

They do say that "patience is a virtue," so if you're lacking a little, here is the perfect opportunity to work on it. In reality, knowing the sex of your baby a little sooner doesn't really change anything; sometimes it is just as beneficial to accept what God has decided for us and just leave it in His hands. Not having control of everything is a great exercise that allows you to perceive your pregnancy differently, and it won't alter the love you already have for your baby.
5. The euphoria of delivery

The sheer joy and excitement that you'll experience the day of your child's birth, and finally discovering its sex, will make all the waiting worthwhile! If, on top of that, the child's sex doesn't match what you had perhaps hoped for, the initial disappointment you could experience will be less on the big day as you hold your baby in your arms than it might have been during a cold ultrasound. You'll be so overwhelmed with love as you look down at that angelic little face, you won't care if it's a little boy or girl!  Then, you'll just need to pick the perfect name — and if you want some ideas, take a look at the suggested articles below …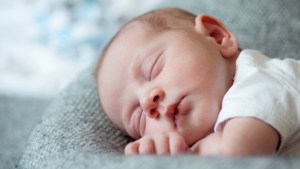 Read more:
16 Inspiring saints' names for your baby boy
Read more:
10 Beautiful biblical names to give your baby daughter
This article was originally published in the French edition of Aleteia, and has been translated and adapted here for English-speaking readers.