Our Lady of Miracles of Caacupé is beloved in Paraguay.
As we hear stories of Marian devotions from different countries, we start to identify common elements. Our Lady often, for example, blesses countries with signs of her presence and closeness shortly after a nation or a people converts to Christianity, as a way of affirming their faith and introducing them to the power of her intercession. She frequently inspires images that depict her in a manner in keeping with the culture she is visiting: she truly looks like one of their own. The image and symbols of Our Lady of Guadalupe have particular significance to the locals of the Mexico, for example, and look culturally very distinct from the image of Our Lady of Fatima or of Our Lady of Kibeho in Rwanda.
Despite these similarities, no two apparitions or miracle stories associated with the Blessed Virgin are exactly the same. This is one of the reasons why we can read story after story about the Blessed Mother and never tire of hearing about her. Hearing about how Mary works in the lives of other individuals and peoples is ultimately a reminder to look for her presence in our own lives and be willing to share that story, whatever it might be: an answered prayer, a moment of peace, a renewal of faith.
Today, we turn to Paraguay.
In the 1500s, missionaries were new to Paraguay, and had been accepted by some tribes, like the Guarani, but rejected by others. The arrival of Christianity thus brought both hope and conflict.
One of the Guarani, a man named Jose, was asked to carve a statue of the Blessed Mother for a mission located in the city of Tobati. He went into the forest in search of an appropriate piece of wood to carve, and found himself surrounded by the violent and hostile Mbayo, who had opposed the Guarini conversions. John hid in the hollow of a tree and fervently begged Mary to protect him, promising to carve two images in her honor. According to legend, Our Lady appeared to him in a pillar of light and assured him that his life would be spared. After the Mbayo had passed and he had escaped, Jose carved the two images, giving one to the mission Tobati and keeping one in his home for personal devotion.
In 1603, a flood wiped out the entire area, destroying everything, including Jose's house. As the waters receded, the small statue of Our Lady miraculously reappeared floating on a lake, undestroyed. The locals recognized this as a sign of Mary's presence, and began venerating the statue as "Our Lady of Miracles." 
The statue has been housed in a succession of chapels and churches. It has been enshrined in the city of Caacupé, 10 miles south of Tobati, since the 16th century, and has been in the current church building since 1980. In 2015, during his visit to Paraguay, Pope Francis honored the shrine, celebrated Mass there and granted it the title of "minor basilica."
Our Lady of Miracles of Caacupé, pray for us.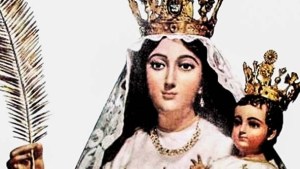 Read more:
Mary will find her way into your life with creativity and persistence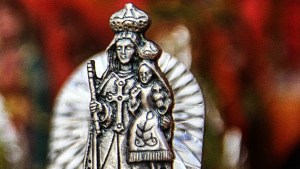 Read more:
When God brought a child back to life through the prayers of His Mother