They have much to teach us about leading a virtuous life.
What can God do in your life with one Bible verse a day?
Subscribe to Aleteia's new service and bring Scripture into your morning:
Just one verse each day.
Click to bring God's word to your inbox
Living in 4th century, the Desert Fathers spent their days drawing close to God and teaching others the secret to living a life of virtue.
These teachings were eventually compiled into a volume called the Sayings of the Fathers, a written record of their profound wisdom. Besides giving advice to monks on how to pray, the sayings also explained various aspects of virtue. Here is another short sampling of five sayings regarding the virtuous life.
Abba Anthony said, "Whoever hammers a lump of iron, first decides what he is going to make of it, a scythe, a sword, or an axe. Even so we ought to make up our minds what kind of virtue we want to forge or we labour in vain."

Abba Anthony also said, "Our life and our death is with our neighbor. If we gain our brother, we have gained God, but if we scandalize our brother, we have sinned against Christ."

A brother questioned Abba Arsenius to hear a word of him and the old man said to him, "Strive with all your might to bring your interior activity into accord with God, and you will overcome exterior passions."

Someone asked Abba Agathon, "Which is better, bodily asceticism or interior vigilance?" The old man replied, "Man is like a tree, bodily asceticism is the foliage, interior vigilance the fruit. According to that which is written, 'Every tree that bringeth not forth good fruit shall be cut down and cast into the fire' (Matt. 3:10) it is clear that all our care should be directed towards the fruit, that is to say, guard of the spirit; but it needs the protection and the embellishment of the foliage, which is bodily asceticism."

It was said of Abba Agathon that for three years he lived with a stone in his mouth, until he had learnt to keep silence.
Read more:
5 Sayings from the Desert Fathers that challenge us to be better Christians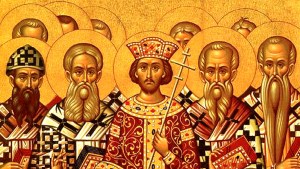 Read more:
5 Sayings from the Desert Fathers on how to pray