People who are good at something do make it look easy, but appearances are deceptive ...
Maya Angelou once said, "I have written eleven books, but each time I think, 'Uh oh, they're going to find out now. I've run a game on everybody, and they're going to find me out.'"
We have a name for that fear — Impostor Syndrome, although it's not a syndrome so much as a common experience. No matter how brilliant or skilled you are, no matter how much feedback and reassurance you get, you feel like you're not half as good as people think. You've just been faking it, and sooner or later people are going to notice that you're just, well, human.
Carl Richards, writing for the New York Times, describes the same feeling: "It's at the moment when you're most vulnerable that all your doubts come crashing in around you. … Every time I sent a sketch or something else into the world, I worried the world would say, 'You're a fraud.'"
People usually talk about Impostor Syndrome afflicting various types of artists, but it's just as likely to turn up in anything that you value, whether that's your parenting, your relationships, or your job.
Well, self-doubt, especially about what matters most, is particularly painful. But the reason that Impostor Syndrome is so common has to do with an assumption that we all tend to make about talent — that if something doesn't come naturally to you, or if it's not easy, then that's a sure sign that you're not actually good at it.
So when I've spent the day biting my tongue and (mostly) not yelling at my son, at the end of the day I'll remember the struggle, and say to myself, "If I really loved that kid, it wouldn't have been so hard." There's a name for this, though! I can't tell you how much I love being able to name this kind of nonsensical thought; it really helps me get out from under it.
Philosophy professor and former ballet dancer Barbara Gail Montero calls this assumption "the myth of flow," where we believe that when you're truly good at something, it comes out of you as effortlessly as breathing. Luckily, she writes, the truth is just the opposite:
"As my dancing improved, I developed both higher standards for what counts as excellence and an enhanced ability to evaluate my technique. What was once facile became difficult; what was once flawless revealed myriad imperfections; and, in certain instances, what was once enjoyable turned into a nightmarish trial."
That is, the better she became at her art, the more difficult it was — but the easier she made it look. This is why we believe in the myth of flow. Because people who are good at something do make it look easy. And it's a convincing thought because, as she rightly points out, "we generally dislike hard work." The truth is unfortunately, that "under the appearance of grace lies an abundance of grit."
So when Impostor Syndrome comes knocking, and you feel like it's hardly even worth trying to achieve excellence, since you know it's going to come by way of blood, sweat, and tears, do yourself a favor and remember Montero's story. What you know will come with strain and effort, might well look graceful and effortless to the people around you.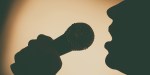 Read more:
Young woman in shelter reveals a hidden talent no one saw coming