"We wish you blessings, and also lots of ..."
Imagine two young people who just promised each other, in front of God and all their loved ones, love and fidelity until death. There is joy, tears of emotion, and maybe rice falling from the sky. There are wishes of health, happiness, prosperity, children, God's blessings … But then suddenly, like lightning from the sky, the newly married husband and wife hear: "I wish you lots of crises."
We wish you many problems!
"Why would someone who loves us and cares for us utter such words on this most beautiful day?" Perhaps it's shocking to hear people hoping you will have crises, but it's actually a great thing to wish for newlyweds. Why? Because it tells the truth about what will come in the future, and, by raising our awareness, it can help us anticipate certain situations. "Forewarned is forearmed," as they say.
This isn't only true about marriage. One day a businessman was asked what success means to him. He replied, "It is being constantly ready for a crisis." From my own experience, I know that anyone who doesn't apply this truth from business in the rest of their life will not succeed. You might say, "How could our marriage fail? How, if we are so happy and in love with each other?"But the fact is, we need to be prepared for difficulties, which are inevitable.
Even the most beautiful relationship, if not protected by awareness of its weaknesses and vulnerabilities, can crumble under the weight of the bad experiences, difficulties, and crises weall will encounter in our everyday lives.
7 fat years, 7 lean years
The biblical story of Joseph who prepared Egypt for seven years of famine (Genesis 41) is well known; he interprets two dreams sent by God to the Pharaoh, foretelling seven years of abundant harvests, to be followed by seven years of famine. Joseph wisely advises that food be stored up during the first seven years to provide for the following seven of famine, and thus, Egypt's people are saved, and the Pharaoh's position is strengthened. Marriage is quite similar.In order to guard against the lean years in the relationship, partners should accumulate "supplies" in advance.They should fill the proverbial granaries with the grain of fidelity, love, understanding, self-sacrifice, and forgiveness, which they can fall back on when the soil of their daily lives stops bearing fruit in their relationship — whether because of discouragement, physical fatigue, changes in interests and habits, lack of growth, or sin.
Weathering crises can be difficult, but if we are prepared for them and see them as opportunities to grow in love for each other, they can actually strengthen our marriage. The important thing is to see crises as a natural part of life — and when they are over, focus on our success in overcoming them together, not on the difficulties as such.
Wishing the newlyweds (and not only them) many crises — or perhaps better, many victories over crises — let us hope that they understand the important message therein: crises will come and go, but when two spouses truly love each other and build solid foundations for their marriage, it will not crumble; on the contrary, they can work on shoring up every weakness that those crises reveal. Thus, their marriage will endure, and even grow stronger. What better thing to wish for a married couple?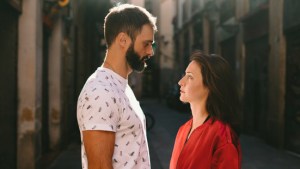 Read more:
Should I end my marriage because I don't feel love anymore?
 This article was originally published in the Polish edition of Aleteia and has been translated and/or adapted here for English-speaking readers.