But it all depends on what you do once you get there ...
In December 2017, three Dutch economists — Hans Bloemen, Stefan Hochguertel and Jochem Zweerink — published a paper that looked at what happened when some Dutch civil servants decided to retire early (the requirement was 55 years or older, with at least ten continuous years of contributing to the public sector pension fund). The researchers discovered these early retired workers would be 2.6 percent less likely to die in the next five years than those who would retire later.
Now, if that 2.6 percent doesn't seem like much, here's another interesting number. A study published by Michael Insler in 2014 (also mentioned by professor Austin Frakt in his recently published article on the matter in the New York Times) determined seven years of retirement might reduce the chance of getting any major diseases (from diabetes to some heart conditions) by almost 20 percent.
Of course, retirement is not necessarily a walk in the park. The benefits of staying active and working are also obvious for many. We all know at least one person who is still taking care of his business, standing behind the counter, teaching in a classroom, tending to his books, or baking pizza in his early 80s. Work that involves physical or mental activity can indeed help keeping bodies and minds healthy. Work provides purpose, a sense of meaning, belonging, and direction in one's daily life. Even if work can be stressful (and hence, might lead to certain bad habits, like drinking and smoking), some find in it a source of health and well-being.
Which brings us to Frakt's conclusion: obviously enough, it is not retirement itself that might be good or bad for you. It's what you do once you retire. But most studies coincide in one thing: as the age for full Social Security retirement benefits increases (from 65 to 67 for those born after 1960), those who work the longest end up in poorer health than their peers in earlier cohorts (feel free to check this study, published by Health Affairs in October 2017, on the matter). Also, part of the problem is that around 20 percent of Americans over 44 years old simply don't have any retirement savings or investments.
So, what to do? Same old commonsensical advice: keep active, develop healthy habits, get more sleep. With more time on their hands, most retirees engage in physical activities they simply were not able to do before because they were lacking the time to do them. Believe it or not, gardening keeps you way more active than pushing papers.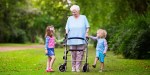 Read more:
What happened when 4-year-olds went to live in a retirement home