The earlier you start, the better — but you must do it gently and gradually.
Surely you have suffered the experience of having your child reject a serving of vegetables: ugly faces and firm resistance to trying them in any way. But the same does not happen when you offer them some pasta or something sweet. Why? And how can you get your child to eat vegetables?
There are several reasons why children reject foods that are not sweet. The preference for sweet things has been shown to be instinctive; babies can already distinguish in their mother's womb, through the amniotic fluid, the various flavors of food consumed by their mother, and towards the end of pregnancy, babies exhibit unhappy facial expressions when in the presence of bitter tastes, and happy ones in reaction to sweet foods. Once born, babies drink their mother's milk, which has a sweet flavor due to the presence of lactose, which is very appetizing for babies and also serves as an analgesic. This helps explain why, throughout infancy, children will often reject foods that aren't sweet.
Another reason is that our taste buds are especially sensitive to bitter tastes, which constitutes a natural defense mechanism in the body to prevent the harm that can occur from ingesting certain toxic substances, which often have a bitter taste.
It also happens to be the case that sweet foods provide more calories than vegetables do, and provide energy more quickly, which children need in order to grow during the first years of life.
Here are some tips to help you get your children to eat more vegetables:
Through breastfeeding, we can help babies to incorporate food into their diets, given that, through breast milk, the baby distinguishes the flavors of the foods that the mother is eating.
Start introducing vegetables from the very beginning of being weaned off their mother's milk, gradually, so that they slowly acquire a taste for them and the habit of eating them.
Eat with them so that they see that you also eat vegetables, which is an important example to set for them, in order to introduce these into their diet by imitation.
At the beginning, avoid bitter flavors, offering them instead sweeter vegetables such as zucchini, corn, carrots, or peas.
If they like pasta, prepare the pasta with vegetables – the way you usually would in a pasta salad, for example.
Do not fill their plates up with vegetables: present them always as a garnish, accompanied by or mixed with something they enjoy.
Do not force them.
Do not offer rewards or threaten to punish them.
Insist repeatedly. It is said that oftentimes you will need to offer some food choices as many as 90 times before some children agree to eat them. As you see, you will need patience; but remember: do it without forcing them or demanding that they eat it.
It is extremely important to start introducing new foods with different flavors into children's diets little by little, starting early in their childhood — especially before 2 years old — given that it is precisely this stage in their development that will likely determine what they eat later in life.
This article was originally published in the Spanish edition of Aleteia, and has been translated and adapted here for English-speaking readers by Martha Fernández-Sardina.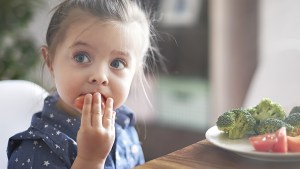 Read more:
3 Ways to help kids eat healthy foods