Science upholds that men and women are unique, and that biological relationships are profound.
Mom, guess what? Your baby, from the very moment of birth, loves how you smell. And it's not because of the soap you use or because of the perfume you wear! It is your natural smell that your child recognizes. He loves it!
But if your baby has just arrived into the world, how can she recognize your smell? Science explains and makes us smile with its response: your baby has been swimming in it for nine months.
It turns out that a woman's amniotic fluid, which surrounds her developing fetus, smells and tastes like her, and the fetus develops the ability to detect these qualities at a very early stage of the pregnancy. Thus, at birth, the mother's unique scent is well known to her baby. That explains why newborns calm down, and cry for significantly shorter periods of time even when separated from their mothers if they are made to smell a cotton ball containing the scent of their mother's breast or her amniotic fluid, as has been proven.
We all know how powerful a familiar scent can be, and how it can transport us to a different world. Newborns have suddenly been thrust into a new world of bright lights, loud noises, cold, hunger, and pain. Imagine how heavenly any reminder of the previous perfect life they left behind must be! Is it any surprise that they cry for their mother day and night?
This is fascinating biological information that we should be familiar with. It not only teaches us and fills us with tenderness, but it is also particularly relevant given the many current debates regarding social changes we are facing today.
Some advocate for a "new normal" – donated ova and sperm, wombs for hire, and two mothers or two fathers. They argue that biological relationships are irrelevant and that both man and woman, whether father or mother, are all the same to a child.
Increasingly, adoption literature is recognizing that being separated from the biological mother, even as a newborn, creates trauma for a child and must be acknowledged by adoptive families and those who work with them.
The science says men and women are not interchangeable and that biological relationships are profound and important — especially the bond between a mother and her baby, from the first moment of life in her womb and throughout the child's development during the months of pregnancy.
Biological truths are not always "politically correct," but ignoring them or rebelling against them can be dangerous. While ideologies want to propagate their opinions by overlooking biology, science invites us to delve into the miracle of life and discover its beauty.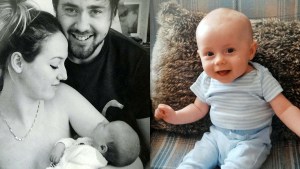 Read more:
This baby detected his mother's breast cancer, saving her life
This article was originally published in the Spanish edition of Aleteia, and has been translated and adapted here for English-speaking readers by Martha Fernández-Sardina.