Musings from a normal, every Sunday parish Mass ...
The woman a few rows ahead of me at the 4:00 Mass on Saturday flung out her right arm during the Confiteor, with a dramatic backwards snap of her wrist at the end, nearly hitting the teenage girl to her right all three times. The girl had either nerves of steel or poor peripheral vision.
It was a normal, every Sunday parish Mass. People gathered to worship God, and though in the Mass grace perfects nature, people are people.
Of coats, sleepy children, and Penguins jackets
Most of the people in front of me had their coats on, though the church was warm. I thought of a convert from Lutheranism who loved the Church she'd entered but found this habit of remaining coated very annoying. She felt the coats signaled they weren't planning to settle in and stay.
A woman with two small children arrived a little late and after disturbing the woman at the end of the row (many people in our church arrive early to sit at the outside end of the row), sat in front of me. The little boy, about four, had on bluejeans, an untucked plaid shirt, and a fleece coat.
The little girl, about three, wore a pretty maroon dress with tulle (I think that's what it's called) as a second skirt. She wore black patent leather shoes with those lacy fold-over socks little girls wear, and I remembered a conversation with my wife when I asked why our little girls couldn't just wear regular socks. "Because these are pretty," she'd said. The girl fell asleep in her mother's arms and her mother laid her down on the pew and covered her with her coat. She slept all through Mass. Her mother carried her out, still sleeping, and executed an impressive genuflection despite the weight.
The big older big walrus-mustached man next to me wore a Pittsburgh Penguins jacket. We used to have a family, husband, wife, and five children, who'd sit up front on the left, from the father on the aisle arranged in descending order of height, each wearing jerseys of the Pittsburgh team then playing. Each one wore a different player's jersey. I don't see them very often any more and when I do they're normally dressed. I miss the jerseys.
A few rows ahead was a woman in a dress and a white sweater that she'd managed to twist several times putting on, so it was all bunched up at the top of her back. As someone who has twice (that I know of) gone to Mass in a sweater with big holes in the elbows, I sympathized. She was in the back as I left, helping a very elderly lady get safely out the door in the rain.
We sang three of the great Protestant hymns, "Alleluia, Sing to Jesus" for the processional (and all the verses too), "How Great Thou Art" for the offertory, and "A Mighty Fortress" for the recessional (just one verse, but I think that's enough Luther).
Picking up on the gospel lesson, our pastor preached about resisting the devils and turning to Jesus for deliverance. He spoke of the devils as both a reality and a metaphor, and said, "I think we all have devils in us." There was a brief rustle in the congregation as people shifted in their seats in response. Not a pleasant thought. His homilies aren't as structured as I'd like, but they always convict and encourage me.
At communion, a lot more people came forward than I thought could possibly be sitting behind me. I've always suspected one of the confessionals in the back was actually a TARDIS that held more people than it could in normal life.
When I finish my prayers, I like watching people receive communion. There's something beautiful about the mechanical impersonal method of delivering the most personal Gift possible. You couldn't find much more difference in a group of people, from the expensively dressed young preppy couples to the old men in jeans with grey ponytails. They represented social gaps I suspect are rarely bridged, but they all show up for Jesus.
As the people stream past, I think of my version of T. S. Eliot's line in The Wasteland, "A crowd flowed over London Bridge, so many, I had not thought death had undone so many." I think, "A crowd flowed down the aisle, so many, I had not thought God had redeemed so many."
Of candles, the Pieta, and the pastor
After Mass, I went up front to light a candle for a very sick friend. I told her I was going to do that and she told me how much that meant, but I had to admit that I just really like lighting candles.
People crowded in front of all three shrines and I had to wait. I lit one in front of the Pieta. Kneeling there, I said an Our Father and Hail Mary while looking on Mary holding her dead Son in her arms. I was praying for my friend and thought as I said, "Thy will be done": the Father willed that dead man and His bereaved mother. Only later did I remember that the risen dead Man sat in the Tabernacle about 20 feet behind me and to the left and had just given Himself to me.
As I walked down the side aisle to the back of the church to leave, Mass had been over about 10 minutes. Our pastor was still at the back talking to people, with a line of people waiting to talk to him.
It was raining a little when I left, and getting dark. Mass always makes me happy.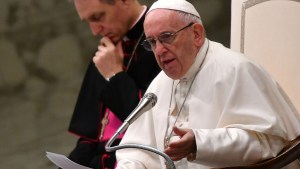 Read more:
Shhhh! Why Pope Francis wants you to stop talking during Mass