Check out the tiny house that Luke Thill of Iowa built in his own backyard.
Experts say boredom is good for kids — it forces them to be creative, fosters their imaginations, and helps them discover new things. Case in point is 13 year-old Luke Thill from Dubuque, Iowa, who was tired of paying video games and riding his bike, so he decided to build a tiny house in his backyard instead.
"I was getting really bored during the summer and I got really fascinated with tiny houses," Luke says in the YouTube video (below) that documents his project. "I decided if I worked towards it and made enough money from cutting lawns that I would start to build a tiny house."
So Luke got to work. He raised money and even bartered some services, such as enlisting the help of an electrician in exchange for sweeping his garage. Luke also used vinyl siding leftover from his grandmother's house and other reclaimed materials for some of the windows, the door, and the  deck.
The 89-square-foot home — 10 x 5 1/2 feet — cost $1,500 to build and took 18 months. Inside there's a kitchenette, a back sitting room with an ottoman, a flip-down table, a mounted TV, and an upstairs bedroom loft that can be accessed by ladder.
Although Luke did the research and learned how to do all the work, he had his father's help throughout the project. His dad, Greg Thill, told The Des Moines Register that he had some simple rules when Luke started the house: "You raise the money. You build it. And you own it."
Greg Thill says his son learned to stay on budget and deal with grown-ups.
"It was a chance for a kid to do something more than play video games or sports," he said. "It teaches life lessons."
Luke says he and his father grew closer through the experience.
"… He was really busy, but he made sure to spend time with me and coached me through the process of building a house. I'm really grateful for a good dad, mom and a good family."
Luke is now in love with building and has spoken at tiny house events about his project. He has a YouTube channel and hopes to inspire other kids to start building. Eventually, he wants to build a bigger tiny house to live in, but for now, he hangs out in his new hideaway a few nights a week, does homework there, and uses it to get a break from his twin brother.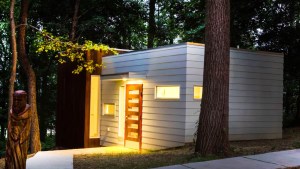 Read more:
A peaceful retreat for one … in the heart of Washington, D.C.