The day before Ash Wednesday is a feast day you might not know about.
Need an idea for Lenten almsgiving?
Help us spread faith on the internet. Would you consider donating just $10, so we can continue creating free, uplifting content?
Make a Lenten donation here
Looking for a beautiful way to bridge the end of Ordinary Time with the start of Lent? There's a prayer for that.
It's called the Alpha Omega Novena of the Holy Face and though it can be experienced at any time of year, it's just begun for 2018. It takes up the nine days of prayer leading up to Shrove Tuesday (also known as Mardi Gras, the day before Ash Wednesday). Shrove Tuesday is the Feast of the Holy Face. You can of course start praying this devotion whenever you are inclined and able. But what a great time of year to start!
"I didn't know Shrove Tuesday was the Feast of the Holy Face," my surprised students consistently tell me, and many of them are lifelong practicing Catholics. It's news to many that Shrove Tuesday, named for the English word "shrive" which means "absolve," is just as good a day for self-reflection and Confession as it is for feasting (while it's Mardi Gras in the U.S., it's Pancake Day in the U.K. and Ireland).
And yes, Shrove Tuesday is also the Feast of the Holy Face. Many who discover this are quickly struck by the significance of beginning Lent more in love with His countenance. For having made reparation "with Jesus, united with all His sorrows, love and total abandonment" through the novena, we can begin our Lenten walk with Christ more at the ready to comfort Him along the way, as St.Veronica did.
Indeed, this searingly beautiful devotion goes back to the Passion itself, when the veil of Veronica smoothed the injuries of Jesus' Holy Face, so besieged with pain.  In 1843, Sister Marie of St. Peter had visions of Jesus requesting a devotion to His Holy Face called "The Golden Arrow," which brings Him great delight; as He said to Sr. Marie, "All who honor My Holy Face in a spirit of reparation thereby perform for Me the services of the pious Veronica."
In 1938, Jesus appeared to Blessed Maria Pierina de Micheli, His face bloodied by His Passion, and said, speaking of His Face, "I wish that it be venerated by a special feast on Tuesday, the day before Ash Wednesday. I wish that the feast be preceded by a novena in which the faithful make reparation with me, joining together and sharing in my sorrow." Following that request, Pope Pius XII named Shrove Tuesday as the official Feast of the Holy Face in 1958.
But there's more. Just as Fridays are days to remember Christ's Passion, every Tuesday is a day for extra devotion and reparation to his Holy Face, especially before the Blessed Sacrament, as Jesus revealed to Blessed Maria. So just as Fridays bring to mind Christ's Passion, Tuesdays should bring to mind the Holy Face.
Perhaps you know someone who is suffering from an affliction of the face such as eye ailments, neuralgia, skin cancer, hearing loss, headaches, etc? One special day and way to pray for them would be on a Tuesday, invoking the Holy Face, "the seal of Divinity, which has the virtue of reproducing in souls the image of God," as Jesus said to Sr. Mary of St. Peter.
If our schedules don't allow us to make a visit to Mass or Eucharistic Adoration, if our schedules barely allow us time for a sandwich, we can still always manage this great short prayer of reparation to the Holy Face, that Jesus revealed to Sr. Mary of St. Peter: "Admirable is the name of God."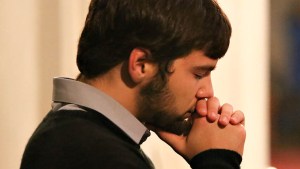 Read more:
Effective prayers that take less than a second
Interested in this novena and devotion? You're in fine company. St. Therese of Lisieux, St. Augustine, St. Gertrude the Great and St. Bernard, among others, all venerated the Holy Face.
In the words of Pope Saint John Paul II, "And is it not the Church's task to reflect the light of Christ in every historical period, to make his face shine also before generations of the new millennium?  Our witness, however, would be hopelessly inadequate if we ourselves had not first contemplated his face."
In a similar way, our Lenten witness to the wounds on His Hands and Feet is inadequate if we have not first contemplated His Face, bitterly kissed by Judas, spat upon, battered, covered with sweat and blood and crowned with thorns, continuing to be dishonored even today through the Blessed Sacrament by profanations and neglect.
For so many, Shrove Tuesday is a date on the calendar that gets overshadowed by Ash Wednesday, that memorable day we wear the outward sign of repentance and recall our mortality. How much more meaningful will our Ash Wednesday be if we first mark Shrove Tuesday as a Feast of the Holy Face, concluding the novena we began in Ordinary Time, and beginning Lent more in love with the countenance of Christ and, through Him, made more beautiful in our own soul.
Another option if you'd like to spend more time with this devotion is to pray the gorgeous "Litany of the Holy Face." In the words of 2 Corinthians 3:18, "All of us, with unveiled faces, seeing the glory of the Lord as though reflected in a mirror, are being transformed into the same image."  
As you prayerfully invoke the Holy Face of Jesus over the next few days, may your countenance be made more like Veronica, whose name means "true image," not only comforting but reflecting His Face, and cast ever more closely in the image of His love. May this novena make our expressions more authentic, our eyes more loving, our mouths more patient.  What a fresh and unforgettable way to kick off Lent!
~
Click here for more information on the Holy Face devotion, and find a PDF of the Novena here.