By mid-February, the classic "new year, new you" is often just wishful thinking. Here's how to get those resolutions back on track.
By February 14 (yes, Valentine's Day, but also Ash Wednesday this year) 80 percent of people who made resolutions for the new year will have already fallen off the wagon, according to Marti Hope González, an associate professor of psychology in the University of Minnesota, as told to Alex Williams in a 2008 article in the New York Times.
It's no surprise that more than half of all New Year resolutions end in failure; the reason for it is quite simple: When thinking and planning for the coming year, most of us just choose the wrong resolutions. It seems achievable, realistic goals are just kept out of sight, and substituted, mainly, with wishful thinking.
However, as Jen A. Miller explains in this article, wrong resolutions are not hard to identify. It's often the case that we commit ourselves to changing something we just don't want to change, or to do something we really don't want to do, but we think we should commit to because it "seems right," or because it's trending, or because it promises great results with little effort, or because everyone else is doing it.
If wrong resolutions are easy to identify, ambiguous ones are not. Ambiguity and lack of realism, indeed, go hand in hand. Whenever we say something vague as "I'll lose weight next year," "I'll make more money," "I'll be more active,"  "I'll be more kind," "I'll pay my debts," we are shooting ourselves in the foot, as these goals all have one feature in common: they are not measurable. There's really no way we can set up any kind of plans for achieving them. Instead of saying "I'll be more active," a proper resolution would be "I'll engage in this or that activity, twice a week, for a couple of hours." Down to earth, concrete, measurable.
Lent offers an opportunity to set some of these clear, concrete, achievable goals. It might sound like a cliché, but it works: Just as specialists in personal finances recommend that you not set goals that are too big to achieve ("I'm going to invest $1,00o a month in stocks this year!"), the same principle applies to almost everything else, including the art of getting rid of bad habits we know are not allowing us to live as we are meant to. This is what both economists and psychologists commonly refer to as the "snowball effect." Even if at first the goals you set might look insignificant ("I'm going to save an extra $50 a month"), the process builds upon itself, and it becomes larger and larger ("Whoa, saving those $50 was easy. I'll aim for $100").
It's easy to see how the "snowball" works. A virtuous circle (just like a vicious one) implies the rolling of a snowball down a snow-covered hillside. You have seen this in cartoons a billion times. As it rolls downhill, the ball picks up more snow and momentum. By the end of Lent, you already find yourself making your resolutions happen: you have incorporated new habits, and gotten rid of some others!
The key to get the (snow)ball rolling in the first place is simple: instead of only saying "I will be more kind," set a specific goal: "I will be kinder to this person in particular, and will make sure to say one nice thing to that person on a daily basis." "I'll make sure I do not lose my temper today if something unexpected happens at work." "I will share time with my family this Friday night instead of going somewhere else." That's more realistic, effective and, most importantly, frustration-free. And, it works.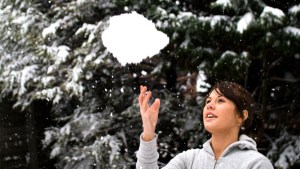 Read more:
The smartest way to pay off your debt: "Snowball" it