Falling in love is a wonderful feeling, but be careful not to get stuck in that phase.
Loving means putting all of a person's good and not-so-good qualities on a scale and accepting them in their entirety. It means appreciating everything there is in him; fostering his virtues, tolerate and minimizing his defects; and supporting him so that with our love, tenderness, patience, and dedication, he can transform his mistakes into good decisions.
Loving is a decision, a free and conscious act that comes from the will and that is accompanied by a feeling: I love to love.
But if love is all that and much more, why are there addicts to romantic love, if every addiction in itself is something bad and love is all good? Perhaps we are talking about an oxymoron, but these situations do arise.
When you are falling in love, your emotions and feelings are heightened and are not entirely accurate.
In this state, we are in some way deceived because we are immersed in such a euphoria that we are unrealistic; we are full of expectation, but some of it is illusion, based on what we have created and fostered in our imagination, not based on reality.
We fall in love with the idea we have formed of the person, of what we desire.
Love takes time, but infatuation is instantaneous. The state of infatuation — which experts say lasts an average of 18 months — is a spontaneous phenomenon outside of the will; it just happens. We don't go out on the street saying: "Today I'm going to fall in love with the first person I see wearing blue." No, it doesn't work like that.
Without knowing how or when, we find ourselves in love. Suddenly we find ourselves thinking about the positive aspects that we like in the other person and we stop taking their defects into account.
The danger starts when we get hooked on the fact of "being in love" because of the sensation of euphoria and enthusiasm that it causes — addicted to romantic love — than the person himself or herself. Then, what could have grown into true love becomes a selfish act. When the addict stop feeling the butterflies, he or she ends the relationship and moves on to the next one …
Loving is not just about feeling. Romantic love addicts fall in love with how they feel when they are infatuated. That is, they are addicts to that feeling of euphoria, the butterflies in the stomach, living in the clouds, and ecstasy.
Many people — and there are more than we think — are fans of being in love and they end their relationships when the magic of having met someone new disappears; when they start to find defects. What pleased them before now begins to bother them.
The infatuated person has trouble committing to the person who attracts his attention; he lives and loves to live in a state of perpetual dazzlement.
Love "without feeling" is the purest and is the one that brings the most joy, because it is genuinely centered in the beloved person, while infatuation is somehow selfish because it is focused on oneself, on what one feels.
Of course, it's perfectly fine and normal to feel in love and to experience everything that such a state bestows on us. What is more, that sensation is quite delicious.
What we should avoid — and this is why we might need to look for professional help — is to remain stuck there, wanting to live eternally euphoric and not letting ourselves move on to a deeper form of love. That is, being addicted to romantic love.
Read more:
How Do I Know If What I Feel Is True Love?
Read more:
There are 8 kinds of love. Which one are you in?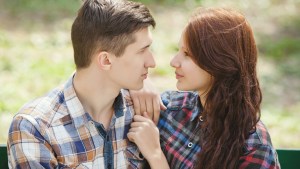 Read more:
Why you should love with an open heart … but keep your eyes wide open
This article was originally published in the Spanish edition of Aleteia and has been translated and/or adapted here for English speaking readers.