Pope: May these Olympics be a great feast of friendship and sport! God bless you and keep you!
Pope Francis says that the two Koreas competing as a single team in the Olympics gives hope "for a world in which conflicts are resolved peacefully with dialogue and mutual respect, as sport also teaches us to do."
The pope said this at the end of today's general audience, as he noted that on Friday, the 23rd Winter Olympic Games will open in the city of PyeongChang in South Korea, with 92 countries participating.
He said that the Koreas marching together under a single flag and competing as a single team gives "special importance" to the "traditional Olympic truce."
"I greet the International Olympic Committee, the athletes who will participate in the Games in PyeongChang, the authorities and the people of the Korean Peninsula. I accompany you all in prayer, as I reiterate the commitment of the Holy See to support any useful initiative in favour of peace and the encounter between peoples. May these Olympics be a great feast of friendship and sport! God bless you and keep you," he said.
Read more:
North and South Korea will march under the same flag this Winter Olympics
North Korea announced that the sister of Kim Jong-un will attend Friday's Olympic opening ceremony. Kim Yo-jong, a senior Workers' Party official promoted to the politburo last year, will be the first member of the immediate Kim family to cross the border between North and South Korea.
The move is widely being seen as an effort to ease tensions between the two neighbours who never signed a peace treaty at the end of the Korean War in 1953. The border, or demilitarized zone between the two countries, remains one of the most heavily fortified borders in the world today.
Read more:
The Christian Roots of the Olympics
Meanwhile, the Holy See will for the first time attend the inauguration of the Winter Games. The International Olympic Committee (IOC) formally invited a delegation from the Holy See for the first time.
Vatican Radio reported:
As a sign of friendship, Monsignor Sanchez de Toca will present the President of the IOC, Thomas Bach, and Korean athletes with t-shirts of "Vatican Athletics," the team composed of employees of the Holy See that the Secretariat of State has placed under the auspices of the Pontifical Council for Culture. The aim of the team is to inspire solidarity and friendship in sport. In 2016 the Vatican was represented at the Olympic summer games in Rio de Janeiro. Despite the fact that the Vatican does not have a team directly participating at the games, the friendship and collaboration continues between the IOC and the Holy See, with several projects, such as the Olympic Youth Games scheduled for October 2018 in Buenos Aires.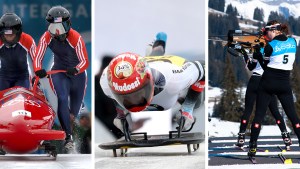 Read more:
5 Winter Olympic events with mythical origins
Read more:
Refugees Will Compete in Olympics as Unique Team