Love is less like a charm, and more like a muscle.
With my first-ever boyfriend, I knew we were going to make it. It was simple. If you love somebody, I remember boasting,  what could go wrong? A lot, it turned out. Once we'd established that we loved each other, I figured we were in the clear. When he started to treat me badly, I told myself I couldn't possibly be reading the situation right. He loved me, didn't he? (I'm a champion at gaslighting myself, in case you couldn't tell.)
It's funny. When it comes to love, people tend to go to two extremes. Either it's "Well, you love me, so I guess that wasn't as selfish as it looked," or "Wow, that was totally selfish. I guess you don't love me." We make love out to be some kind of a bubble — either you're inside it, and everything's perfect, or you're outside it, and nothing can be done.
I went into my relationship with my now-husband from a different angle. "I'm going to hurt you," we'd remind each other, "and you're going to hurt me." We brought it up again and again, especially as our wedding day got closer.
How do people in love hurt each other? Often, it's just a simple mistake, or a forgivable bought of thoughtlessness. But it's not just the little things. People can do real damage to each other, even on purpose. You can't look somebody in the eye and vow never to give in to your own selfishness, pride, or anger — whatever your intentions, there's no inoculating yourself against your own vices.
"I'm going to hurt you." It's not the most romantic phrase, but I found it strangely comforting. We weren't saying we intended to break that vow, "to love and to cherish," and I hope it goes without saying that the concept has nothing to do with excusing or ignoring bad treatment. When somebody doesn't treat you right, it's always a sign that they're not prioritizing love, at the very least.
It's just that when we think of love as some kind of magic charm, a fail-proof protection against misunderstandings, mood swings, stress, and worse, we're setting ourselves up for a lot of despair and resentment. Being hurt by your beloved is bad enough, but the expectation that it'll never happen  couples the hurt with an even more painful sense of betrayal. It's a lot harder to move on from, when you see a bad day or week as death knell for love, instead of a lapse in love.
It's not just romantically involved people who ought to remember this. When I realize I've spent more time snapping at my family than not, it makes a big difference for me to remember that a) I wasn't loving, and I need to change that, but b) it's not proof that I don't love them. It shows me where my problem areas are, but it's a challenge, not an invitation to give up.
Love is less like a charm, and more like a muscle. It grows — or atrophies — over the course of a lifetime, depending on how much use it gets. Perfect love is a worthy goal. It's actually the only worthy goal in life, the only thing that ends up mattering. It's just not achievable overnight. "Progress, not perfection," as the AA slogan goes, ought to be our mantra with love, as with so many other pursuits.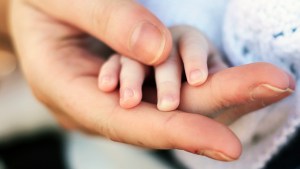 Read more:
This baby lived for only 45 minutes, but it was a lesson of love