After 91 years of baby selections, history is made by little Lucas Warren.
Gerber named its "Spokesbaby of the year" yesterday and for the first time in the company's 91 years, a baby with Down syndrome received the title. It went to little Lucas Warren, an 18-month-old with a grin big enough to instantly melt hearts.
A new Spokesbaby is chosen annually from photo contest submissions to Gerber. "We choose the baby who exemplifies Gerber's longstanding heritage of recognizing that every baby is a Gerber baby," Gerber spokeswoman Kristin Wooten informed CNN. "Lucas is a perfect fit."
An award of $50,000 will go to Lucas parents in Georgia. Additionally, Lucas' sweet smile will appear on Gerber's advertisements throughout 2018.
"We're hoping this will shed a little bit of light on the special needs community and help more individuals with special needs be accepted and not limited," Lucas' dad Jason explained told TODAY. "They have the potential to change the world, just like everybody else."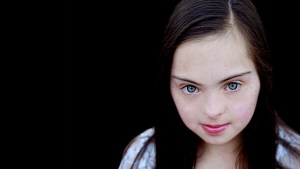 Read more:
Photographer captures stunning portraits of children with Down syndrome (PHOTOS)