Music helped him find his voice, and years later he thanked a favorite songwriter.
When Noah Cummins was 2 years old, he was so quiet that his mom had to put bells on his feet to find him in their own house. Completely nonverbal, Noah was diagnosed with autism, but, two years later, something unexpected happened … he began to sing.
With his mom, Noah began singing along to "Picture" by Kid Rock and Sheryl Crow. When Noah recently had the opportunity to meet Sheryl Crow in person, he told her, "The way that I learned to sing and talk was through 'Picture.' And I just wanted to thank you so much." Now, Noah studies music at college and speaks (and sings) freely.
Crow was overwhelmed by the beautiful story. You can see and hear more from Noah in the video above.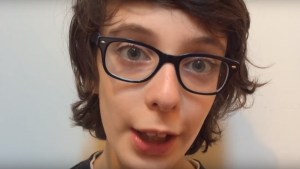 Read more:
How one 4th grader explained his autism to classmates (VIDEO)